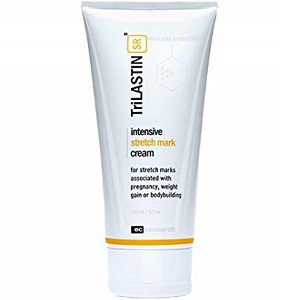 Trilastin-SR Intensive Stretch Mark Cream - Does It Work?-Review
What is Trilastin-SR Intensive Stretch Mark Cream?
The below review examines Trilastin-SR Intensive Stretch Mark Cream with Hydro-Thermal Accelerator to bring you all the real facts. The manufacturer claims that this product will effectively improve both old and new stretch marks, promising visible results in three weeks and further claiming that it is suitable for all skin types to use.
Ingredients & How It Works
Zea Mays (Corn) Kernel Extract
BeauPlex VH
Hydromanil H.GL
D-Stria
BVOSC
Chlorella Vulgaris Extract
Elastin
Collagen
Active Soy Protein
Vitamin E
Zea Mays Kernel Extract may benefit wound healing and may work by encouraging the regeneration of skin tissue. BeauPlex VH may be beneficial as it contains Vitamin E, Vitamin C, Vitamin B3, Vitamin B5 and Vitamin B6. Hydromanil H.GL assists by hydrating the skin. D-Stria increases the synthesis of elastin and collagen and can be used to improve stretch marks. BVOSC is beneficial as a source of Vitamin C and may work as an antioxidant. Chlorella Vulgaris Extract can be used to treat skin ulcers and rashes, research cautions that it can cause skin sensitivity. Elastin is naturally produced by the body, it may prevent skin damage by providing flexibility. Collagen is also naturally produced by the body and increasing levels of collagen provides skin with beneficial strength and elasticity. Active Soy Protein may encourage cellular growth and moisturize skin. Vitamin E contains beneficial antioxidant properties.
Daily Serving
It is recommended by the manufacturer that you should apply this product twice a day to receive the best results and additional instructions provided suggest that you should wash and dry the area that requires treatment before applying Trilastin-HT accelerator and waiting one minute before applying Trilastin-SR in circular motions until absorbed. The manufacturer neglects to provide any cautions or warnings regarding the safe intended usage of this product which is concerning because research confirms that an ingredient used can cause skin sensitivity and others might cause allergic reactions.
The Cost
This product can be purchased online directly from the manufacturer's website. A one month supply of this product consists of one 162 ml tube of Trilastin-SR Intensive Stretch Mark cream and one 88 ml tube of Trilastin-HT hydro-thermal accelerator cream and will cost you $69.00. Additionally, you can purchase a two month supply for a discounted cost of $119.99 and purchasing a three month supply will cost you $189.99.
Guarantee
The manufacturer does offer a 90-day guarantee to first-time customers and the information provided on this website states that they will refund three opened and used products per order although, additional products will be refunded if they are sealed and unused.
Our Review Summary Of Trilastin-SR Intensive Stretch Mark Cream
This product might be ok because it does use some good ingredients and the manufacturer provides easy to follow instructions on how to use the product. Further inspection, unfortunately, points out that there are significant downsides such as the realistically unaffordable price and it is concerning that our research confirms that some ingredients used may cause adverse skin reactions such as skin sensitivity which the manufacturer has neglected to caution. In conclusion, there are other similar products available from leading brands that would be more suitable and more affordable that you should rather consider.
Well researched reviews, from the experts at Research & You.