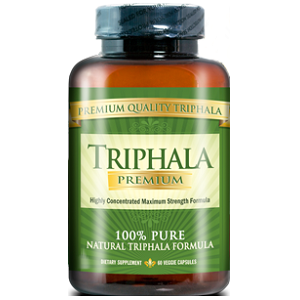 Triphala Premium - Does It Work?-Review
What is Triphala Premium?
Triphala Premium emphasizes that it is not just another fly-by-night weight loss supplement. Rather, it makes a strong case for the benefits that make it an effective addition to your weight loss program. Key among these is that its formula mirrors the ingredients and their amounts which were shown to produce significant weight loss in clinical studies. This means the manufacturer didn't just rush a product to market to "get in" on the action but took its time to understand what would work and generate weight loss results. With effects that include suppression of appetite and fat-burning, Triphala Premium presents a strong argument. Is it the right weight-loss supplement for you? Read our review below to get all the details on which to decide.
Ingredients & How It Works
Triphala Premium's formula is based on the following Ayurvedic ingredients. Amounts are per two-capsule dose:
Amla extract - 534 mg
Harad extract - 534 mg
Behada extract - 534 mg
The combination of these ingredients, in equal quantities, is said to trigger the a hormone which tells your brain you're full. This means you feel less hungry and, as a result, you eat less. Ultimately, eating less lowers your calorie intake and your body makes up for the energy loss by burning fat.
Daily Serving 
Unlike many weight-loss supplements, this one is to be taken 30 minutes before going to bed at night. Take two capsules with water.
The Cost 
At the time we wrote this review, you could buy Triphala Premium from the manufacturer's website. There were several purchase options. A single bottle with 60 capsules, a one-month supply, was priced at $48.00. The other options are all bulk purchases with per-bottle discounts compared to the single bottle price. Three bottles was set at $30.00 per bottle, four bottles were $28.00 per unit and six bottles cost $23.00 per bottle.
Guarantee 
A nice, and competitive, feature of this product is its 90-day money back guarantee. The policy allows you to return both opened and unopened bottles within three months of delivery. (We like that they choose the delivery date, rather than the order date as the start date, giving you the full three months to try the product). Products can be returned for any reason. 
Our Review Summary of Triphala Premium
Triphala Premium looks like a good bet in the jam-packed weight loss supplement market. It has a number of advantages. Most importantly, its formula is based on both the composition and quantity of active ingredients that were shown effective in a double-blind, placebo-controlled study. The daily dosage is also at the recommended level of 1600 mg. It is manufactured in an FDA-registered lab under cGMP guidelines, ensuring quality and it contains no fillers and or non-active ingredients at all. Finally, the 90-day, customer-centric money-back guarantee signals both the company's confidence in its product and a policy that puts the customer first. As a result of our review, we see no reason not to recommend Triphala Premium for those who are looking for help with their weight loss journey.
Well researched reviews, from the experts at Research & You.