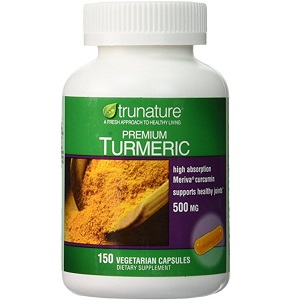 Trunature Premium Turmeric - Does It Work?-Review
What is Trunature Premium Turmeric?
Our Premium Turmeric review examines this product in more detail. The product claims not only to promote a healthy inflammatory response; it supports joint flexibility and mobility. A healthy liver function, digestive system, and the maintaining of cholesterol levels within a normal range are promised. Lastly, this supplement product also claims to be a good source of antioxidants which combat the development of diverse types of cancers.
Ingredients & How It Works
This product contains:
665 mg of curcuminoids [from 700 mg of standardized turmeric root extract (curcuma longa L.)] [Min. 95.0% Curcuminoids (containing curcumin, demethoxycurcumin and bisdemethoxycurcumin)]
Other ingredients are vegetarian capsule (hypromellose, purified water), microcrystalline cellulose, and magnesium stearate (vegetable grade)
The key element curcumin is well researched. Curcumin is a good source of antioxidants, supporting colon health, augmenting brain and heart health. However, this product lacks an agent such as piperine which helps with the absorption of curcumin into the system. Each capsule does, however, offer 1000 milligrams of turmeric. Either way, this product utilizes ingredients suitable for vegans and vegetarians.
Daily Dose
The manufacturer suggests taking either one (1) or two (2) capsules daily, with a meal. No mention is made of whether these capsules are best taken in the morning, in the evening, together, or separately. One capsule delivers the recommended daily dose of turmeric − 1000 milligrams. Two (2) capsules therefore deliver twice the recommended dosage.
The Cost
This health product is not sold directly on the manufacturer's own website, but is available on various online stores accessible through Amazon (a third party site). The lowest price for a 150-capsule bottle is $35.63 (includes shipping fee). No discounts are offered, nor are there any package deals presented.
Guarantee
No guarantee of any kind is offered by the manufacturer of this dietary supplement. This questions the efficacy of this dietary supplement.
Our Review Summary Of Premium Turmeric
The health benefits of turmeric are well known − from fighting inflammation, supporting both a healthy brain and heart, to ensuring that the colon functions correctly. Premium Turmeric promises to do this, and it does deliver 1000 mg of turmeric per capsule. In addition, this product, although not sold directly from the manufacturer, is available on various online channels, each offering a better price. However, it should also be mentioned that this product lacks a guarantee. More so, even though the supplement contains 1000 mg of turmeric per capsule, it lacks piperine, the much-needed ingredient that aids absorption of turmeric's active ingredients. Furthermore, dosage instructions are vague – not guiding the consumer with a well-designed plan, normally based on clinical studies, on how to take the product, and the quantity for optimal health benefits. WIth that in mind, but also the understanding that there are so many turmeric supplement product currently on the market, most offering much better value, a lot of consideration should be made before choosing on this particular supplement.  Look out for supplements that  contain 95% curcuminoids and that provides 1000 mg of turmeric per daily serving. Also, ensure the supplement is pure and that no added fillers, binders, preservatives or additives have been added to the formula.
Well researched reviews, from the experts at Research & You.