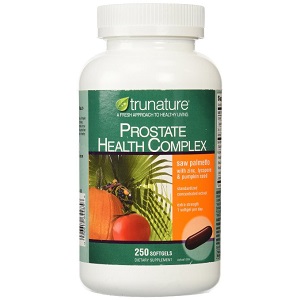 Trunature Prostate Health Complex - Does It Work?-Review
What is Prostate Health Complex?
This is a review of Trunature's Prostate Health Complex, a product that claims to help maintain a healthy prostate with its formula of healthy ingredients that include phytonutrients and fatty acids.
There is no shortage of prostate health supplements on the market today. However, for every good and reliable product, there suspicious and even shoddy imposters. A challenge in this competitive and market is sifting through and telling the good from the bad. What customers look for in a reliable product are natural and healthy ingredients, positive reviews, transparency from the manufacturer, and a money-back guarantee. Does Prostate Health Complex meet these criteria? Read below to find out our review of this new product.
Ingredients and How it Works
Zinc
Selenium
Saw Palmetto Extract
Pumpkin Seed Oil
Palmitic Acid
Stearic Acid
Oleic Acid
Linoleic Acid
Lycopene
Water
Gelatin
Yellow Beeswax
Lecithin
Carmel Powder
Titanium Dioxide
The ingredients in Prostate Health Complex include fatty acids and phytonutrients, helping improve prostate health. Saw palmetto and pumpkin seed are relatively common in all-natural prostate supplements.
Daily Serving
The manufacturer recommended dosage is one softgel daily with a meal.
The Cost
At the time of our review you could buy a bottle of 250 softgels for $29.85 on Amazon.
Guarantee
There isn't any guarantee offered by the manufacturer. This could indicate a lack of confidence in the product.
Our Review Summary of Prostate Health Complex
Trunature's Prostate Health Complex boasts a formula of healthy ingredients and has garnered an impressive percentage of positive customer feedback ratings on Amazon.
That being said, there are a few aspects that we found disconcerting. Pricing is average, but certainly not the least expensive we've seen at $1 per day. In addition the lack of a return/refund policy is often a deal-breaker in this competitive category. Lastly, there is a severe lack of transparency with customers. The website looks old and tired and doesn't provide very much product information. In an age where companies are becoming more and more transparent for customers, this opaque approach is an unfortunate handicap. Customers today greatly value transparency and prefer a transparent, open company to a secretive one. Transparency with customers is a sign that the manufacturers are trustworthy and reliable. By extension, it implies that the product is trustworthy and reliable as well, and that the manufacturer have confidence in the success of their product.
As we said before, the hardest task in an over-saturated market is telling apart the good prostate supplements from the bad. Prostate Health Complex does provide a formula of healthy ingredients and the price is ok. However, the lack of a guarantee, omission of customer reviews from the website, and an overall opaqueness towards customers has earned this product one-too-many red flags.
Well researched reviews, from the experts at Research & You.