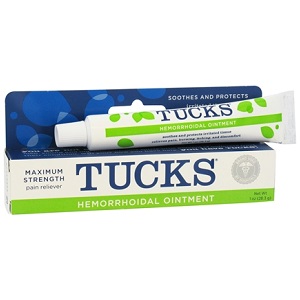 Tucks Hemorrhoid Ointment - Does It Work?-Review
What is Tucks Hemorrhoid Ointment?
The following review is for the product Tucks Hemorrhoid Ointment. This product is a hemorrhoid treatment solution intended to alleviate pain, burning, and itching caused by hemorrhoids. It is easy to use and works by providing a shielding coat around the swelling tissues thus protecting them from further harm and pain. The product contains clinically proven active ingredients such as Pramoxine HCI, that aids in the quick relief of pain.
Ingredients & How It Works
Tucks Hemorrhoid Ointment includes the following components:
Pramoxine HCI - It is one of the active ingredients in this product and works by offering fast temporary relief from skin swelling.
Zinc Oxide - It has cleaning and antibacterial properties making it able to fight infection, reduce excess wetness and swelling, as well as, calm irritated tissues.
Mineral Oils - It helps to ease skin inflammation and keeps the skin dry, preventing further inflammation.
Polyethylene wax - Acts as a coating on the affected tissue to avoid further damage.
Peruvian Balsam - It is a potent reliever of skin irritation and hemorrhoids.
Calcium Phosphate Dibasic - It forms a protective coating over the swollen tissues and prevents them from drying.
Cocoa Butter - It contains polyphenolic elements that help to lower inflammatory markers, hence contributing to the hardening of the arteries.
Glyceryl monostearate - It provides a covering to the affected tissues.
Kaolin - It serves as a protectant for the short relief of anorectal aching.
We established that the excessive use of Pramoxine might result in side effects such as burning, stinging, inflammation, and tenderness on the areas of application.
Daily Serving
Tucks Hemorrhoid Ointment should not be swallowed. Use a soft cloth to apply externally to the affected spots for up to five times a day. Then clean the affected area with mild soap and warm water and rinse carefully. For an application using a dispensing cap, connect it to the tube, lubricate appropriately, then softly insert it into the anus and squeeze the tube to dispense the drug. After that, cleanse the dispensing cap. Adults are advised to ask a doctor for direction in case there is a need to use it on a child below 12 years.
The Cost
Tucks Hemorrhoid Ointment can be purchased at online stores. The price of this product is not stated on the Amazon online store because it is not currently available in stock and it is not clear when it will be available. This raises concern over the quality and legality of this product. However, the Amazon states that it offers free shipping for customers purchasing the product online and are within the United States.
Guarantee
It is not clear if the manufacturer or Amazon offer a money-back guarantee. This is another major concern on whether the product is useful or not.
Our Review Summary Of Tucks Hemorrhoid Ointment
Tucks Hemorrhoid Ointment is very useful in relieving discomfort and itching caused by hemorrhoids. It also contains many clinically proven ingredients that aid in alleviating pain. We found out in our thorough research that some medical conditions may interact with Tucks Hemorrhoid Ointment. Hence, it is necessary for pregnant women to seek medical advice before using this product.
Well researched reviews, from the experts at Research & You.