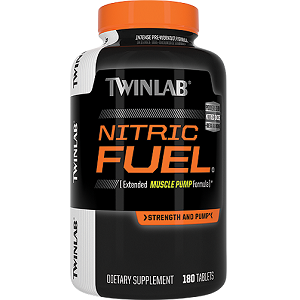 Twinlab Nitric Fuel - Does It Work?-Review
What is Twinlab Nitric Fuel
The following is an informative review for Twinlab Nitric Fuel that will bring you the real facts. This product claims to build muscle by pumping oxygen to the blood. The manufacturer claims that this product will also boost muscle strength and increase energy to keep you going through your workouts.
Ingredients & How It Works
Niacin - 30 mg  
Beta Alanine - 3.2 g
Power Pump Complex - 2334 mg
Di-arginine Malate
Citrulline Malate
Di-creatine Malate
Aspartic Acid
L-histidine
Glyceryl Monostearate - 300mg
Niacin helps reduce the hardening of arteries. It can lower cholesterol levels and decrease cardiovascular risks. Beta alanine is an amino acid that is converted by the body into chemicals that affect the muscles. Di-arginine Malate helps you maintain the right amount of nitric acid in your muscles. Citrulline Malate is a non-essential amino acid that provides vasodilation and boost of energy. Di-creatine Malate is a combination of creatine and malic acid which improves creatine uptake in your body to boost your endurance. Aspartic Acid is another amino acid used in the biosynthesis of proteins to support muscle growth. L-histidine contains antioxidants, anti-inflammatory, and anti-secretory properties and tt is effective in protecting inflamed tissue.
Daily Serving
The manufacturer recommends that you should tale six tablets along with 12-20 oz of water and at least half an hour prior to your intense workout. You may take additional tablets to boost your results as suggested however, it is cautioned that you should not exceed nine tablets per day. It is cautioned that this product is not safe to use if you are pregnant or lactating and that you should consult a doctor prior to use if you are taking any medications or have a medical condition. This product is also strictly for use of persons 18 years an older or with the permission of a parent and should be kept away from children.
The Cost
Unfortunately, you cannot purchase this product directly through the manufacturer's website however, you can purchase it online through third party retailers and it should cost you around $46.10 for 180 tablets. There does not seem to be any discounted options available but you might find that certain retailers might have some discounted offers for this product.
Guarantee
The manufacturer does not advertise or offer any kind of money back guarantee which is extremely concerning as this shows a great lack of confidence for this product and also questions the quality standards and effective results. This is even more concerning because this is a rather expensive product and therefore, if you are not entirely happy with your purchase for any reason, you cannot get your money back.
Our Review Summary Of Twinlab Nitric Fuel
Considering that this product does use some good ingredients and that it does have clear instructions provided by the manufacturer, it could be viewed as an ok product. However, it is extremely expensive and there is no money back guarantee and this raises many concerns about not only quality, but also the effective results that it may offer and when taking into account that there were not many customer reviews found online and none found on the manufacturer's website, we cannot conclude that this product will even work and therefore, you might want to keep looking for a more suitable product that has proven to be effective.
Well researched reviews, from the experts at Research & You.