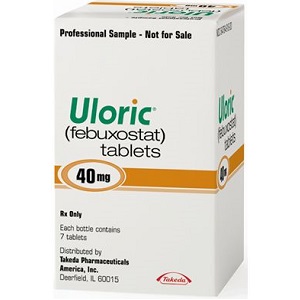 Uloric - Does It Work?-Review
What is Uloric?
In the following review, we gather facts about Uloric and aim to find out if it works. Uloric is a prescription medication that is intended to decrease the blood uric acid levels in adults suffering from gout. Patients intending to take this prescription drug should inform their doctors about all their medical conditions beforehand.
Ingredients & How It Works
Febuxostat - Is the main active ingredient and belongs to the xanthine oxidase inhibitors class of medication. It is used to reduce the levels of uric acid in people with gout.
Lactose Monohydrateactose - It has outstanding compressibility properties that make it suitable for the formation of tablets.
Microcrystalline Cellulose - It helps in the creation of hard tablets and it dissolves fast.
Hydroxypropyl Cellulose - It is an inactive ingredient that works as a coating agent.
Sodium Croscarmellose - It is used in this prescription drug to ensure it dissolves properly in the stomach. It also supports absorption at an appropriate rate.
Silicon Dioxide - It prevents ingredients from sticking together when supplements are exposed to humid conditions.
Magnesium Stearate - It works by keeping the elements in tablets and capsules from sticking together.
Since Uloric contains Febuxostat, patients taking Azathioprine or Mercaptopurine should avoid taking this product. Use of this product is likely to cause nausea, liver problems, joint pain and gout flare ups.
Daily Serving
Uloric comes in the form of tablets and can be taken once daily which is 40 mg or 80 mg. It can either be taken with or without food. Expectant mothers should avoid taking this medication before consulting with a doctor.
The Cost
The price for Uloric is not stated on the manufacturer's website. But we were able to find out its price on drugs.com which is $308.99 for 30 tablets. However, customers with the Drugs.com Discount Card can save up to 80% off the retail price.
Guarantee
The manufacturer does not disclose any information on guarantees. We are wary of a product that does not come with a satisfaction guarantee or some kind of a refund policy.
Our Review Summary of Uloric
Based on the research we conducted, it is clear that Uloric might not work efficiently. However, we noted many side effects associated with its usage such as rashes, liver problems, gout flare ups (which is why some patients take it), nausea, and joint pain. We also discovered that some clinical studies have revealed that heart attacks and heart-related deaths were reported in people using this product. But it has not been confirmed yet. The lack of a money back guarantee, and the high cost of this prescription medication on the manufacturer's website are also some of the concerns we have.
Well researched reviews, from the experts at Research & You.