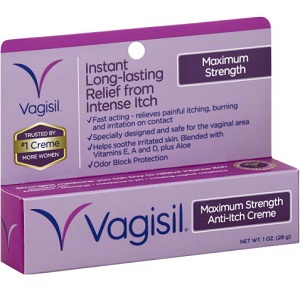 Vagisil Anti-Itch Vaginal Creme - Does It Work?-Review
What is Vagisil Anti-Itch Vaginal Creme?
This review is going to take a closer look at Vagisil Anti-Itch Vaginal Creme to learn more about how it works and to see whether or not it is a truly effective product. It is estimated that more than 75% of women will experience vaginal itch in their lifetime which is usually caused by an overgrowth of yeast. Vagisil Anti-Itch Vaginal Creme is a cream that is designed to help alleviate the symptoms of vaginal itch. The manufacturer claims that this cream will relieve the most painful, burning itch fast by forming a protective barrier over delicate skin to help reduce the chance of further irritation and to provide long-lasting comfort.
Ingredients & How It Works
Benzocaine (20%)
External analgesic
Resorcinol (3%)
Inactive Ingredients: Water, Cetyl Alcohol, Glyceryl Monostearate, polyoxyl 100 stearate, Mineral Oil, Isopropyl Palmitate, Aloe Vera Leaf, Alpha Tocopherol Acetate, Corn Oil, Cholecalciferol, Methylparaben, Isopropyl Myristate, Sodium Sulfite, Trolamine, Trisodium HEDTA, Vitamin A Palmitate, Carbomer Homopolymer Type C, Propylene Glycol.
Benzocaine is a local anesthetic that works by blocking nerve signals in your body and is incorporated into this product in order to reduce pain and discomfort that is caused by skin irritation. External analgesic has the ability to reduce pain to irritated skin. When Resorcinol is used externally it acts as an antiseptic and a disinfectant.
Daily Serving
Vagisil advises that you should apply a fingertip amount to the affected area 3-4 times a day. You should not exceed this dosage amount.
If you are pregnant nursing, under the age of 12 or under medical supervision, you should talk to your doctor before using this product.
The Cost
You can purchase Vagisil exclusively from third-party retailers. We found a one ounce four pack of Vagisil for $14.99. There are no bulk purchasing packages or discounts but that can vary according to the manufacturer you purchase from.
Guarantee
We were unable to find a manufacturer's guarantee. We strongly advise contacting their customer service to inquire about their up to date return policy, should you choose to move forward with this product.
Our Review Summary Of Vagisil Anti-Itch Vaginal Creme
This product appears to be a promising product that can help you get relief from symptoms of a vaginal itch. It is made up of three active ingredients that have the ability to relieve uncomfortable vaginal itch. The price is relatively fair although Vagisil is not backed by a manufacturer's guarantee. This is risky because it means that no matter the circumstances, you cannot get a refund from the manufacturer. It also suggests that the manufacturer is lacking confidence in its product's ability. This is especially risky because the consumer feedback we saw is mixed. There were consumers that claimed that this cream worked for them but we saw many consumer reviews that reported that using this cream caused their itch to worsen. Users reported that using this cream caused their pain to worsen and caused them to experience several side effects like rash, burning, and odor. Taking these factors into consideration, you are better off purchasing a product that is backed by a strong manufacturer's guarantee and one that has positive consumer reviews.
Well researched reviews, from the experts at Research & You.