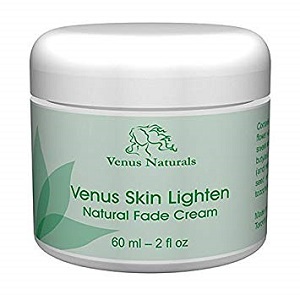 Venus Natural Skin Lightening Cream - Does It Work?-Review
What is Venus Natural Skin Lightening Cream?
The following review examines the product by Venus Natural in more detail: Skin Lightening Cream is claimed to be a solution for skin that has an uneven skin tone, and in which there is dark pigmentation. It is claimed that this product can penetrate the skin, thereby making the skin more radiant, evening out the pigmentation. The manufacturer claims that extended use of this product can lead to a skin that has a natural glow and a bright complexion. Continue reading this review to discover the facts about this product. Learn about the ingredients found in this product and how they work, the possible guarantee, how to use this product as mentioned by the maker and the price of this product.
Ingredients & How It Works
Purified water
Rosewater
Emulsifier wax made from coconut and palm oils
Coconut oil
Sweet almond oil
Bearberry extract
Mitracarpe extract
Bearberry extract, a natural ingredient, helps reduce the amount of melatonin produced by the skin. The manufacturer gives no account of the active ingredients as opposed to inactive. For an effective product, at least 10% of the formula should comprise active ingredients. This product lacks certain key and clinically proven ingredients which hydrate and condition the skin − such as mallow, peppermint oil, gypsweed, alpenrose, and other ingredients. This product is free from any artificial preservatives.
Instructions
The manufacturer states that this product should be applied to areas of high pigmentation. The product should be applied twice daily, and used for at least three (3) months, for best results.
The Cost
This product is available online directly from the manufacturer's own website at $22.00 per 60-ml jar. Two (2) jars cost $40.00, saving $4.00. Three (3) jars cost $56.00, saving $10.00. This can save some money over the long term, consumers also being rewarded for their loyalty.
Guarantee
The manufacturer offers a 90-day money-back guarantee on this product. However, this pledge is limited to the buyer's first return only. Returns should be unopened, and are subject to a 20% restocking fee. All other returns are non-refundable.
Our Review Summary Of Skin Lightening Cream
The product Skin Lightening Cream appears promising. There is a 90-day refund guarantee offered, albeit limited to the buyer's first return only. There is a 20% deduction on the refund amount. However, this product contains only natural preservatives, and there are package deals that offer the consumer savings. On the downside, this product lacks key ingredients that are clinically proven to be effective. More so, the manufacturer fails to inform the consumer which ingredients in the formula are active. With that all stated, there are many other, similar products on the market currently, most of them offering better quality ingredients, attractive package deals with discounts, and firm guarantees that protect the consumer. There are other, comparable products on the market. The issue if compared to this product, they do stand out. Other products have firm guarantees, attractive package deals with discounts, and positive and many customer reviews.
Well researched reviews, from the experts at Research & You.