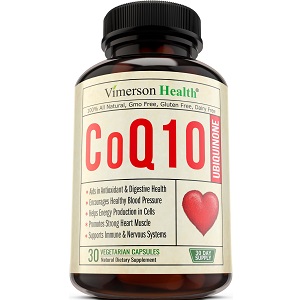 Vimersion Health CoQ10 - Does It Work?-Review
What is Vimersion Health CoQ10?
The following is our review of Vimersion Health CoQ10. It claims to provide support for digestive health, healthy blood pressure, energy production in cells, strong heart muscle, and immune and nervous systems. It is also supposed to improve your heart and vascular health while also supporting a healthy brain function. Continue reading for our full review.
Ingredients & How It Works
This product contains 200 mg of Coenzyme Q10., which is fat-soluble benzoquinone that may help improve heart condition, prevent heart rhythm irregularities, and control blood pressure. CoQ10 is used for energy production by every cell in your body and is needed to protect us against cellular damage and free radicals. This product also contains vegetable cellulose and rice bran. It is all natural, non-GMO, gluten-free, dairy-free, and soy-free.
Daily Serving
It is recommended to use this product as dietary supplement. You should take 1 capsule a day, 30 minutes before a meal, with a full glass of water, or as directed by your doctor. You should especially consult your doctor before taking this supplement if you under the age of 18, pregnant, nursing, taking any medications, or have any existing medical conditions. If you notice any adverse reactions, you should immediately stop using this product. For the best results, this product should be used along with a healthy diet and regular exercise.
The Cost
Vimersion Health CoQ10 costs $19.30 bot a bottle of 30 capsules. This product should last you a month if you take the recommended daily dose.  This product is pretty affordable.
Guarantee
This product is backed by the manufacturers 100% satisfaction guarantee. You are able to try this product risk-free for 30 days. You just need to send the manufacturers an email to let them know and they will gladly refund your money minus costs of shipping. This guarantee shows that the manufacturers have a lot of confidence in their product's effectiveness, since you are allowed to return used product.
Our Review Summary of Vimersion Health CoQ10
There are a couple of positive qualities about Vimersion Health CoQ10. It is sold for a very affordable price which allows customers to not break the bank if they would like to buy more. It also has a pretty good customer guarantee that actually allows customers to try the product for 30 days and then return it if they don't like the results. This shows the confidence the manufacturers have in their product's effectiveness. There were a couple of negatives as well. Customers said that this product caused them diarrhea. Some even said the bottles came damaged or had a passed expiration date. We feel you will have more luck with a similar product found elsewhere.
Well researched reviews, from the experts at Research & You.