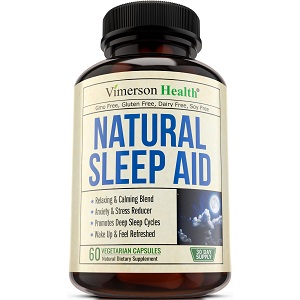 Vimerson Health Natural Sleep Aid - Does It Work?-Review
What is Vimerson Health's Natural Sleep Aid Review?
Read our review about Vimerson Health's Natural Sleep Aid. This product claims to promote deep sleep cycles, lessen stress and anxiety, decrease chronic pain, promote relaxation, and regulate the body. In addition, the goal of the product is to help you wake up feeling refreshed.
Ingredients & How It Works
The ingredients are:
Calcium (Citrate) 45 mg
Vitamin B6 (Pyridoxine HCL) 1.8 mg
Magnesium (Citrate) 90 mg
Sleep Formula Proprietary Blend (L-Tryptophan, Valerian, Goji (Wolfberry)
Chamomile
Lemon Balm
Passion Fruit
L-Taurine
Hops
St. John's Wort
Gaba, Skullcap
L-Theanine
Ashwagandha
Inositol
5-HTP
Melatonin (1071 mg)
Other ingredients include vegetable cellulose, rice flour, magnesium stearate, and silicon dioxide.
Vitamin B6 has calming effects on the nervous system. Calcium and magnesium are vital for functioning of nerve cells within the brain, especially those that control sleep. The elements L-Tryptophan, L-Theanine as well as GABA are brain neurotransmitters which promote sleepiness. The extracts Valerian, goji, chamomile, lemon balm, passion fruit, hops, Hypericum perforatum, Galerina marginata and Ashwagandha are used for good health and to promote sleep.  Inositol, normally used as a depression and anxiety treatment, lacks some scientific evidence that it is actually effective. Nonetheless, the last element, melatonin, is the sleep hormone that controls the sleep-wake cycle. This product is suitable for vegans and vegetarians as the capsule is gelatin free. The formula is gluten, soy, and dairy free.
Daily Serving
The manufacturer suggests that 2 capsules be taken daily, 30 minutes before bedtime, with a glass of water. The manufacturer recommends that, before taking this supplement,  a doctor should find it safe to use.
The Cost
Vimerson Health sells the product, Natural Sleep Aid, online at $18.70 for a bottle contain 60 capsules. This is a discounted price; however, the company does not offer any discounts on package deals.
Guarantee
The manufacturer offers a 100% satisfaction guarantee. However, the policy is unclear as to how many days are allowed for return of the product or in what condition you may return it.
Our Review Summary Of Natural Sleep Aid
Natural Sleep Aid, by Vimerson Health, is an all-natural dietary supplement, suitable for people with various dietary restrictions. In addition, the product is competitively priced. However, package deals would have made this product much more affordable, especially if a sleeping aid for insomnia is required over a long period.  There are some areas of concern about this product. One is that the company has a vague return policy, which doesn't support customer rights: information on when and how to return the products is scanty or absent. Also, although there are reviews about this product, our research has come across reports indicating that nearly 50% of reviews are unreliable, and therefore not a benchmark to be used in the process of deciding to buy a product.
Well researched reviews, from the experts at Research & You.