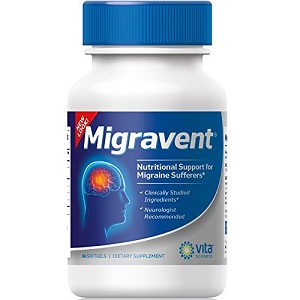 Vita Sciences Migravent - Does It Work?-Review
What is Vita Sciences Migravent?
The following review is for a product called Migravent, a nutritional supplement for those who suffer from migraines. The manufacturer claims that this product will give you the support you need for a healthy neurological function, comfort and ease, through its active natural ingredients. Over 500 Neurologists and leading Headache Clinics across the United States of America recommend Vita Sciences Migravent.
Ingredients & How It Works
The main ingredients are:
Magnesium
Riboflavin
Proprietary Blend – Butterbur Extract,  Bioperine and Coenzyme Q10
Butterbur contains about 15% of isopetasin and petasin, which scientists found to have two active compounds that help reduce spasm in cerebral blood vessels and prevent compounds that activate infection in blood vessels. Magnesium is known to control the increase of blood vessels in the brain, which normally occurs throughout the migraine attack. Riboflavin helps with the production of energy, while Coenzyme Q10 enhances the neurological function. Feverfew is another effective ingredient that effective products contain. This product could have been more effective if it was added.
Other ingredients are White Beeswax, Sunflower Lecithin, Purified Water, Safflower Oil, Gelatin capsule and Fish.
Daily Serving
One Migravent capsule can be taken with meals three times a day, everyday. You can take these supplements for up to four or six months, and then take them again when and if the migraine comes back.
The manufacturer suggests that you consult your doctor if you are taking any medication, or if you are pregnant or breastfeeding. This product is only meant for people over the age of 12.
The Cost
Migravent can be purchased at a discounted price of $38.95 from the manufacturer's website, otherwise you can place your order telephonically on a number provided on their website. You are not charged any shipping fees if you purchase products that worth over $39.00. This product is also available from third-party retailers at a price range of $37.00 when you subscribe for repeat purchases. It costs $38.95 for one-time purchase.
Guarantee
The manufacturer claims that they trust their product in that they offer you a 30-day money back guarantee. If you feel unsatisfied about the product in anyway, you are encouraged to contact them so that they can try to assist you. Otherwise you can return the product within in 30 days of its purchase for a full refund, excluding shipping and handling fees. This is not enough time to determine the effectiveness of the product. Effective products give you a 90-day money back guarantee.
Our Review Summary of Vita Sciences Migravent
Migravent is designed to provide relief from migraines through its trusted and scientifically proven ingredients. Despite this, we noticed that feverfew, which is known to be effective in preventing migraines is not included in this product. It would have been more effective if feverfew was included.
The 30-day guarantee is not enough to determine the results of the product. These downsides, together with some negative customer reviews make us doubt the effectiveness of Vita Sciences Migravent. We recommend that you look for something that has all the effective ingredients and has a 90-day money-back guarantee. 
Well researched reviews, from the experts at Research & You.