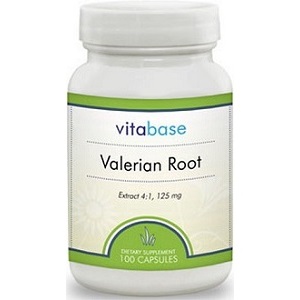 Vitabase Valerian Root - Does It Work?-Review
What is Vitabase Valerian Root?
The following review is of Vitabase Valerian Root. This product is designed to alleviate insomnia, reduce anxiety, and prevent restlessness. The manufacturer claims that the supplement provides effective results without causing the onset of negative side effects. We have assessed the reliability of this claim and factors contributing to the product's supposed effectiveness to help you make an informed decision.
Ingredients & How It Works
The main ingredient in this product is Valerian Root Extract (125mg). This ingredient is a concentrated substance derived from the Valeriana officinalis found in India and West Asia. The ingredient has been used for many years because of its soothing properties. It is argued to relieve anxiety, alleviate insomnia, and minimize headaches caused by sleep deprivation. It is also claimed to improve sleep quality without inducing negative side effects such as drowsiness. While this ingredient may prove beneficial, it cannot be used as a total care solution to insomnia. Melatonin is just one example of a supportive ingredient, found in competitor products, that would improve the product's ability to deliver optimal results. The lack of additional ingredients in this formula is very concerning. Another downside to this product is that the manufacturer does not stipulate whether it is produced in a cGMP certified facility. This suggests that quality is not a priority during the manufacturing process. Furthermore, there is no indication if the product is vegan-friendly or animal-cruelty free.
Daily Serving
As a dietary supplement, take one (1) capsule with food. Users can consume up to six (6) capsules per day. Each serving supplies 125mg of Valerian Root Extract, which is equivalent to 500mg of Valerian Root. This is in line with general recommendations of between 400 and 900mg before bed. That said, manufacturer dosage recommendations may be too high if users take up to 6 capsules. Individual reaction to the dosage will vary, however, this can only be tested after a purchase has been made.
The Cost
The product can be purchased online from the manufacturer's store. A bottle of 100 capsules costs $8.80. This is a relatively affordable price, however, is likely a result of the lack of essential ingredients in the formula. The manufacturer offers a bulk-buy deal to encourage long-term use. Consumers can purchase three (3) bottles and get 1 free. That said, the fact that this product lacks several substances means that long-term use is unlikely to deliver optimal results. There are more competitively priced products with superior formulas.
Guarantee
The manufacturer offers a 100% money-back guarantee within 60 days of purchase. This guarantee applies to one opened container. While this indicates a level of confidence in the product efficacy, the customer is subject to shipping fees and a 10% restocking fee. This may render the refund ineffective. There are more attractive guarantees for certain competitor products. Despite additional research, there are limited customer reviews to support the product's quality. This means that we cannot confidently vouch for the manufacturer's claims. Product testing is required to determine its quality, however, this can only be done after making a purchase.
Our Review Summary Of Vitabase Valerian Root
There are a few appealing factors about this product. It contains an ingredient used in many competitor products for its benefits. It is also affordably priced. That said, the low price is likely a result of the lack of supportive ingredients. Furthermore, the guarantee has many regulations which hinder its reliability. Finally, the product is not supported by customer reviews. Without a clear indication of product quality, we cannot recommend this supplement as an ideal solution for insomnia.
Well researched reviews, from the experts at Research & You.