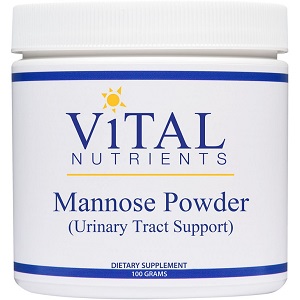 Vital Nutrients Mannose Powder - Does It Work?-Review
What is Vital Nutrients Mannose Powder?
It is no longer a secret that urinary tract infections are the pits and so very painful. Moreover, they are increasingly common, and antibiotics cannot always do the trick.  Although UTIs occur mainly in women, they affect the kidneys, ureters, bladder, or urethra of men and children too when bacteria enter the urethra and extend to the bladder or kidneys. This is a review of Vital Nutrients Mannose Powder, a supplement that helps maintain a mucosal lining in the urinary tract.  
Ingredients & How It Works
There is one ingredient in this product which is D-Mannose Powder, a sugar that is found in many foods like cranberries.  Every teaspoon (2 grams) of the powder contains 2000 mg of D-Mannose.  D-Mannose is found naturally on the epithelial cell membrane wall in the genitourinary tract.  It is clinically proven to prevent UTIs by stopping bacteria from sticking to the bladder walls.  When D-Mannose is taken orally, it binds to flora and helps support urinary tract health.
Daily Serving
The product label states to take either one-quarter, one-half, or one teaspoon of Vital Nutrients Mannose Powder 1-3 times a day, dissolved in water.  It can be taken in between or with meals or as directed by your healthcare professional. Individuals who are pregnant, nursing or under medical supervision should consult their healthcare professional before using this product.
The Cost
The price for Mannose Powder is the same on the manufacturer's website or on third party websites:  a 50-gram container is $39.10. We were unable to find a multi-packs or discounts available for this product which is unfortunate as the price point for this supplement is quite high.
Guarantee
The guarantee that the manufacturer offers is barely a guarantee at all. The manufacturer offers satisfaction guarantee policy for 30 days, and only on unopened products.  This is unfortunate and does not allow for risk-free purchasing since if you try the product and don't like it, you cannot return it.
Our Review Summary Of Vital Nutrients Mannose Powder
Mannose Powder offers a supplement in the form of a powder to treat and prevent UTIs.  It is all natural and has a very high level of D-Mannose in every teaspoon of the product. The largest drawbacks of this product are two fold:  its price and the almost non-existent satisfaction guarantee by the manufacturer. First, with one container of the product only containing 25 teaspoons of Mannose powder, it means that depending on the daily dosage that you take, you may go through the entire container in just 10 days.  Therefore this supplement is expensive, and with other products in the marketplace that are similar enough in terms of its content and at a much lower cost point, it is understandable that customers will gravitate towards them.  Additionally, any manufacturer today that does not stand behind its product allowing a new customer to try it, thereby opening the container, should understand that customers will surely gravitate to other products that have up to a year guarantee where they can open the container and truly experience risk-free purchasing.
Well researched reviews, from the experts at Research & You.