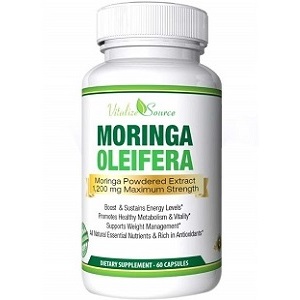 Vitalize Source Moringa - Does It Work?-Review
What is Vitalize Source Moringa?
The following review will examine Vitalize Source Moringa, a dietary supplement that is designed to boost your energy and alertness. It is also intended to support your weight management; regulate blood glucose levels; and improve your digestive health and immune system.
Ingredients & How It Works
The main ingredient is Moringa Oleifera. The manufacturer asserts that there are 20 types of amino acids; 46 types of antioxidants; 36 types of anti-inflammatory compounds contained in the ingredient.These anti-inflammatories, antioxidants, vitamins and minerals contained in the leaves of the Moringa are responsible for boosting your energy, mental clarity, alertness and your general health.
Inactive ingredient: Vegetable capsule.
Daily Serving
The recommended dose for adults is two capsules twice daily, while it is one capsule twice a day for children. There is no information available regarding the time of the day that you should take the doses. It is also not indicated whether you should take it before, with or after your meals.
The Cost
Vitalize Source Moringa can be purchased online through the manufacturer's website for $14.87 for 120 capsules. Otherwise, you can also buy it from various online retailers for the same price. This price is reasonable and a bit cheaper than most of the similar products on the market. There were no discounts available during the time of our research.
Guarantee
The manufacturer does not compromise when it comes to refunds. They make it clear that they will only refund you if you return the product to them within 30 days of purchase. It is important to note that returns can only be accepted if the product is unused, unopened and in its original packaging. Furthermore, they indicate that they reserve the rights to reject the claim and not reimburse you.
Our Review Summary Of Vitalize Source Moringa Capsules
Vitalize Source Moringa seems to be a promising product. It contains an all-natural Moringa Leaf, that is responsible for improving your health, and boosting your energy. The price is affordable and is even better than most similar products on the market.
It is very concerning that the manufacturer states that they will refund your money without questions if you return the product to them within 30 days if you are not satisfied. However, when we read the fine details in the refund tab, it is stated that they only accept products that are unopened and in their original packaging. This is false advertising, and it puts the consumers at risk.
Furthermore, there is not even a single consumer review on the manufacturer's website and less than 15 on the third-party retailers' websites. This could mean that there are few consumers that have used the product and that it is not well known in the market. It is quite risky to buy a product that is not supported by a clear guarantee, and one that has few reviews.
Rather look for a product that will provide you with a clear, and detailed information money-back guarantee. It should also have many consumer reviews so that you are well-informed about the product before you buy it.
Well researched reviews, from the experts at Research & You.