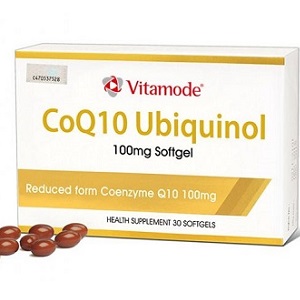 Vitamode CoQ10 Ubiquinol - Does It Work?-Review
What Is Vitamode CoQ10 Ubiquinol 120mg?
CoQ10 a coenzyme has attracted some of the biggest amounts of research. This is because it is so vital on important levels, protecting both the heart and brain from oxidative or degenerative stress as it does. We naturally lose CoQ10 as we become older and this decline starts from as young as 45. Certain drug classes, such as statin drugs, also further deplete our reserves of CoQ10. It is this Coenzyme that plays a leading role in the fight against strokes, heart attacks, Parkinson's and Alzheimer's. Other important functions are the lowering of blood pressure and preventing muscle cramps. The bottom line is, when you think of fighting decline, CoQ10 should come to mind.
The brand of CoQ10 we review today is from Vitamode. Brands differ in the dosages they offer and level of bioavailability, amongst other formulation factors.
Ingredients & How It Works
Coenzyme Q10 Ubiquinol – 100mg
CoQ10 is found in two forms in the body, the non-active ubiquinone form and the active ubiquinol form, with both being necessary to produce cellular energy. However, our body must convert CoQ10 Ubiquinone into Ubiquinol only then it can be used by our body to produce cellular energy. This means that while ubiquinone is of immense value, it is the ubiquinol version contained here that is more bioavailable. However, to raise bioabsorption the most, the compound required is Bioperine as research has shown. This is missing here. We would also have liked to know more about the suspension agent used, as the COQ10 has to be delivered in a vegan-friendly format to preserve its structural integrity, so it is of maximum benefit in the body.
Daily Serving
If you've been experiencing symptoms of a deficiency and are over 45 (these symptoms being the likes of an erratic heartbeat), take 2 to 3 tablets a day for the first 2 or 3 weeks, or as prescribed by your doctor. After that, take one a day only. Not for children. Check your doctor's advice if you are on chronic medication, particularly statins or warfarin or other blood pressure medication, as your doctor needs to advise you how to amend your CoQ10 dosage accordingly.
Even at 2 a day as recommended by Vitamode, the dosage would fall short of the 250mg medically required. The same would be true if you reverted to a one-a-day-regimen. Leading medical experts say that this is ineffective.
The Cost
There are 30 softgels in a pack with each pack being available for purchase at a price of $32.41. The product is Malaysian in origin and while there are local store codes you could use to get a discount if in Malaysia, these do not apply to online purchases. At 3 a day, also remember that you'll be making your way through a pack in 10 days.
Guarantee
Unfortunately, the returns policy is very weak. You only have seven days from the date of purchase within which to initiate your return. To make matters worse, you may only return unopened packs.
Our Review Summary Of Vitamode CoQ10 
A 100mg dosage in a capsule is low, however, you are within the target range at 200mg and 300mg if you take 2 or 3 capsules. It contains the most bioavailable form of CoQ10, although it isn't clear if the formula is vegan-friendly. Certainly, Bioperine as the major bioavailability tool is not included.
Unfortunately, there is also no guarantee attached to this product which is being shipped and dispatched from Malaysia. Thanks to this supplement maker being based overseas, there is also, unfortunately, no GMP certification as this is not required. Problem is, we could find little guaranteeing safe and best practice manufacturing standards as required locally in this country, other than for Vitamode to assert that they subscribe to the 'highest quality standards'. So, while you could buy this supplement, you could get this and more at a similar price, knowing GMP standards, as well as returns policies, are properly in place. Moreover, look for a source of 100% pure COQ10 with Bioperine as an ingredient, as these are two of the most important medical requirements. 
Well researched reviews, from the experts at Research & You.