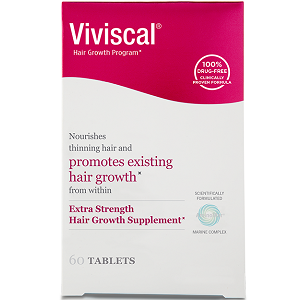 Viviscal Extra Strength Hair Growth Supplement For Women - Does It Work?-Review
What is Viviscal Extra Strength Hair Growth Supplement For Women?
Our review investigates the suitability of Viviscal's Hair Growth Supplement For Women as an effective treatment for thinning hair. According to the manufacturer, this product promotes existing hair growth as well as nourishing thinning hair. It claims to be 100% drug-free and that it contains a clinically-proven formula. It is a dietary supplement that will help you regrow your hair by providing the body with the necessary nutrients.
Ingredients & How It Works
Vitamin C - 59mg
Niacin - 12mg
Biotin - 120mcg
Calcium - 60mg
Iron - 10mg
Zinc - 11mg
AminoMar Marine Complex - 450mg
Horsetail extract - 36.7mg
Millet seed extract - 7.5mg
The AminoMar marine complex, which is made from shark cartilage and oyster extract powder, is useful in nourishing and revitalizing thinning hair, leading to a thicker growth. It also aids in promoting the growth of existing hair from the scalp. Together with zinc and vitamin C, AminoMar invigorates the growth of hair during the Anagen phase of the hair growth cycle. Biotin is an important ingredient in any hair growth product as it helps the body absorb nutrients which are necessary for the formation of hair.
Daily Serving
It is recommended to take two tablets daily with water after a meal. Take one tablet in the morning and the other in the evening. It is recommended to use the product for at least 3-6 months to notice best results. If you experience any abnormal reactions, discontinue use immediately and consult your healthcare provider.
The Cost
You can purchase a one-month supply (60 tablets) directly from the manufacturer's website for $49.99. You may also buy from other online retail stores. If you buy a three-month supply (180 tablets), you qualify for a discount and you will only pay $119.97, translating to a $30 savings.
Guarantee
You will be glad to learn that the manufacturer offers a 90-day money back guarantee on this product. If, for any reasons, you are unsatisfied with the results, send it back to the manufacturer within 90 days of purchase and get your full refund. This does not apply to products that were bought from third-party websites.
Our Review Summary of Viviscal Extra Strength Hair Growth Supplement For Women
Our review determined that this product could be effective in treating hair loss through its principal ingredient, AminoMar Marine Complex. This element nourishes and revitalizes existing hair to provide a thicker growth. This product also does not seem to cause any serious side effects, plus it comes with a 90-day money back guarantee. However, as the ingredients contain shark and oyster, it may not be suitable for everyone. The taste of the tablets may also not appeal to some users. The price for the product is quite high, even with the slight discount for buying three bottles, and it also does not seem to be GMP certified. We think there are just as effective products on the market for a better price and that come with a GMP certification.
Well researched reviews, from the experts at Research & You.