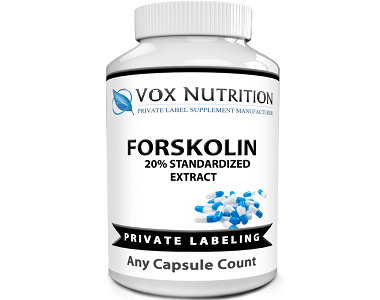 Vox Nutrition Private Label Forskolin - Does it Work?-Review
What is Vox Nutrition Private Label Forskolin?
This is a review of Vox Nutrition Private label Forskolin. This is a product which aims to assist in weight loss by boosting the metabolism which allows fat cells in the body to break down. Although the primary function of Forskolin is to promote weight loss there are countless other benefits associated with its use. People who regularly consume this product report that the condition of their skin improved dramatically once they started using it. Another great benefit is that it could alleviate menstrual cramps as well as easing the symptoms associated with allergies. This product is made from the root of the Coleus Forskohlii plant, which is commonly found in India. The aim of this review is to provide you with an unbiased opinion on the effectivity of this weight loss product.
Ingredients & How It Works
This natural supplement is made entirely of Coleus Forskohlii root extract. This is quite impressive as the product also contains a concentration of 20% Forskolin. This concentration ensures that the product delivers the maximum benefits if it is used correctly. This product matches industry standards in terms of its strength and concentration. However, we were slightly concerned as we were unable to find any information regarding the preservatives and additives included in this product.
Daily Serving
On their website, the manufacturers of this product recommend a daily dosage of 500mg of this product. Each capsule contains 250 mg of Forskolin so you would need to take two capsules daily. Additionally, the manufacturers recommend that this supplement is to be taken 30 minutes after a meal with water. We found this quite alarming as all of our research shows that products which contain Forskolin should be taken with a meal. This is to ensure proper absorption as well as prevent any damage to the lining of the stomach.
The Cost
This product is available to purchase for on the manufacturer's online store. However, we were unable to locate any information regarding the price per bottle. The product is only available to order on a large scale and if you wish to buy it you will need to request a quotation directly from the retailer.
Guarantee
Sadly we could not find any information regarding a guarantee on this product. This is rather alarming as it makes you question whether this product is effective. A guarantee is often very reassuring when buying a new product as it shows the manufacturers confidence in their own product.
Our Review Summary of Private Label Forskolin
Private Label Forskolin is a relatively good natural supplement which facilitates weight loss. This product delivers the requisite 500mg dosage each day and it is also contained in a plant-based capsule which means that it is safe for vegans to use. However, we were concerned about the recommendation for use of these capsules after meals. We were also taken aback by the fact that there are no prices available on the website and that there were hardly any customer reviews for the product.
Well researched reviews, from the experts at Research & You.