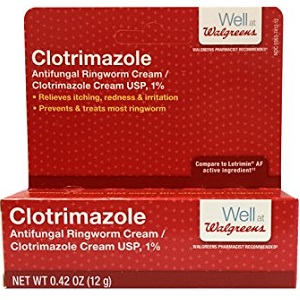 Walgreens Clotrimazole Antifungal Ringworm Cream - Does It Work?-Review
What is Walgreens Clotrimazole Antifungal Ringworm Cream?
Clotrimazole Antifungal Ringworm Cream is a topical agent for application on an area affected by a dermatophyte infection. Dermatophytes are a group of fungi which infect the skin layers of humans and animals. They can be transmitted quite easily through direct contact with an infected individual or by contact with an object that the infected individual has touched. Their infection manifests as a circular raised red rash which resembles a curled up worm. That is why the condition is called ringworm. This review assesses the product on its potential ability to reduce the appearance of a ringworm infection but also evaluates whether it is offered at a reasonable cost.
Ingredients & How It Works
The active ingredient present in this product is clotrimazole. Clotrimazole belongs to a class of broad Spectrum antifungal agents called the imidazoles. These antifungal interfere with the production of an enzyme which is vital to the health of the fungal cell. This enzyme, called ergosterol maintains the integrity of the fungal cell membrane. This causes the cell to leak and burst. Eventually after all the fungal cells have died, the infection will be cleared.
Although this substance is excellent for clearing a fungal infection, the damage that is left behind is not attended to by this product. Ringworm causes definite tissue damage which is seen by the red inflammation caused by the infection. The affected area is easily susceptible to another infection or scarring. That is why we believe this product should also contain ingredients which reduce the inflammation and promote skin healing, but unfortunately it does not.
The ingredients in this cream can be quite toxic if swallowed and immediate medical attention must then be sought. Pregnant woman, breastfeeding women and children under the age of two should only use the product if specifically advised by a physician. Clotrimazole can also cause and irritation or allergic reaction so use of this product must be stopped immediately if these occur.
Daily Serving
Each morning and each night the affected area must be washed and dried thoroughly and the cream should be applied as a thin layer until it's completely absorbed.
The Cost
One tube of Walgreens Clotrimazole Antifungal Ringworm Cream, which contains 0.42 oz can be bought online for $8.99.
Guarantee
A 30-day money back guarantee is offered by Walgreens for this product. The refund includes shipping costs.
Our Review Summary Of Walgreens Clotrimazole Antifungal Ringworm Cream
We believe the ingredients present in this product are sufficiently researched and it is offered at a reasonable price. We also find the dosing instructions to be very clear.
We do believe that it is commendable for the manufacturer to offer a guarantee but we do feel the guarantee is too short to test the product adequately. We also think that this cream is lacking in certain ingredients which are vital to promote skin healing after the infection has cleared.
What we also found quite concerning is that the manufacturer gives a summary of customer ratings of the product but does not provide access to each individual customer review.
Well researched reviews, from the experts at Research & You.