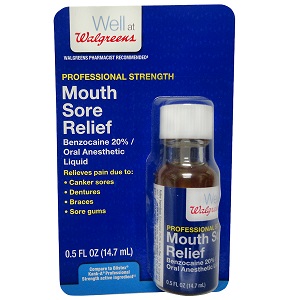 Walgreens Professional Strength Mouth Sore Relief - Does It Work?-Review
This product by Walgreens claims to relieve the pain caused by canker sores, dentures, braces and sore gums. What is to follow is a review of the product Professional Strength Mouth Sore Relief.
Ingredients
The only active ingredient in this formula is benzocaine (20%).
The interactive ingredients include benzyl alcohol, cetylpyridinium chloride, compound benzoin tincture, dimethyl isosorbide, ethyl cellulose, flavor, octylacrylamide, acrylates, butylaminoethyl, methacrylate copolymer, oleth-10, peg 6, propylene glycol, ricinus communis (castor) seed oil, alcohol 38b, sucralose, and tannic acid.
This formula lacks vitamin B12 that has been clinically proven to help with canker sores. This formula merely soothes pain; it does not heal wounds, support vitamin or mineral deficiencies, or prevent future attacks.
Dosage
The manufacturer recommends that the affected area be coated with this liquid. However, the area should first be dried, before applying the undiluted medication with the applicator. Allow a few seconds for the coating to form. This may be repeated up to 4 times per day, or as indicated by a health-care provider.
Possible Side Effects
The manufacturer does warn of allergy to local anaesthetics, such as butacaine, procaine, benzocaine as well as other types of caine anaesthetics. This treatment should not be used for longer than a week, and should be used externally only. If swallowed, a doctor or a poison-control centre should be contacted. In addition, anyone below the age of 2 should not use this product; those under 12 should be supervised. This product should also not be shared, as cross contamination could occur. Either way, if the pain, redness, or swelling worsens, or a rash or fever develops, a health-care provider must be consulted immediately.
Price
A small bottle containing 0.5 fluid ounces of Professional Strength Mouth Sore Relief has a purchase price of $5.49 online on the manufacturer's website. For 1 fluid ounce, the purchase price is $10.98. It may be purchased as a once-off, or buyers may be locked into a subscription. On a third-party site like Amazon, a 0.5 fluid ounce bottle sells at $11.43, excluding a shipping fee of $3.46. Either way, no discounts are available.
Guarantee & Feedback
The manufacturer offers a 100% satisfaction guarantee. Any unused portion with the receipt should be returned within 30 days of purchase to qualify. Shipment fee forms part of the refunded amount. No reviews  were found for this product. Reviews are a useful indicator of whether a product has been effective for many people; shared experiences are valuable.
Our Conclusive Review On Professional Strength Mouth Sore Relief
Professional Strength Mouth Sore Relief seems a useful product for treating canker sores. It is also backed by a solid money-back guarantee which allows for a free trial. On the downside, there is a distinct lack of reviews on this product. In addition to the previous issue, this item is merely focused on addressing the pain, rather than on addressing the root cause of the problem. There are other, similar, treatments available on the market which address the pain, the cause and prevent canker sores from recurring.
Well researched reviews, from the experts at Research & You.