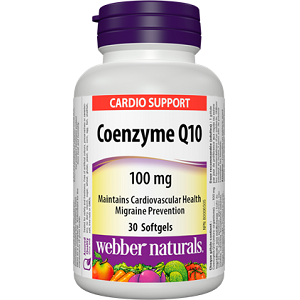 Webber Naturals Coenzyme Q10 - Does It Work?-Review
What is Webber Naturals Coenzyme Q10?
Coenzyme Q10 has been manufactured by Webber Naturals and is an enzyme that plays a crucial role in ensuring the sustained cellular activity. This enzyme is naturally produced by the body, but administering it into the diet has proven to be beneficial. It is a powerful antioxidant which clinical studies reveal to be lost with time as our bodies age. By supplementing this nutrient, on protects their cells from free radical damage and promotes cardiovascular health. Webber Naturals kept Statin drug users as well as migraine sufferers in mind while producing this formulation. Webber naturals have released the enzyme in a variety of supplemental amounts to cater for people of different ages and health conditions, however, in this review of Webber Naturals Coenzyme Q10, we focus on the 100mg softgel servings.
Ingredients & How It Works
Active Ingredient:
Coenzyme Q10 (bacteria or yeast)  

Other Ingredients:
Rice bran oil
Gelatin
Glycerin
Purified
Carob
Natural tocopherols.
CoQ10 has undergone scientific research as a supplement and made notable improvements to the heart muscles by protecting them from oxidative damage. It is found in all cellular membranes, and has been proven to aid up to 95% of energy production in the body and can assist lowering blood pressure. Quality CoQ10 material is usually fermented from yeast, which is known for being a source which is free from impurities, however, based on the additional fillers and binders such as rice bran oil, this could potentially compromise the quality and effectiveness of the CoQ10 in this formula.
Daily Serving
The recommended dosage is one softgel capsule together with meals. Do not use this product if pregnant or breastfeeding. Those who are using blood thinning medications should consult a doctor before using this product can advance blood thinning. Those pregnant and breastfeeding cannot use this product. Statin drug users are suggested to supplement 100mg-400mg of the enzyme, so in that case, we assume that a safe dosage of 4 capsules can be taken with meals.
The Cost
Webber Naturals website supplies a link to a google map which illustrates the pharmacies, drug stores, grocery stores which stock the supplement across Canada and the US. The product is also available for online purchase through 9 different online vendors. The retail price for 30 softgel 100 mg servings for a cost of $14.79. Shipping subscription related savings (5-15%) are offered.
Guarantee
Webber Naturals does not supply any information concerning a guarantee nor refund.
Our Review Summary Of Webber Naturals Coenzyme Q10
Webber Naturals Coenzyme Q10 has released a supplement that has proven itself a nourishing supplement when viewed through the lenses of cardiovascular health. We like that Webber Naturals has made an effort to display the pharmacies which stock its product and included a varied list of online vendors to make their product available for the public, however, we have issues of concern when we look at the lack of guarantee on the product. Having a returns or guarantee goes a long way to show the faith you have that your supplement will deliver consistent results, the lack of one allows us to assume that we should too, not have faith in the product. The fact that the product is unsuitable for vegans and vegetarians is another downside as there are so many vegetable capsule ingredient that could definitely suffice for the gelatin and glycerin used in the soft gel capsule.
Well researched reviews, from the experts at Research & You.