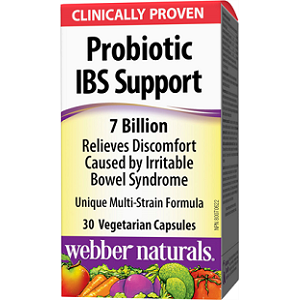 Webber Naturals Probiotic IBS Support - Does It Work?-Review
What is Webber Naturals' Probiotic IBS Support?
The following is a review of the dietary supplement Probiotic IBS Support. Webber Naturals, the manufacturer of this product, claims that it reduces the symptoms of Irritable Bowel Symptoms (better known by the acronym IBS). The idea is that the probiotics in the formula are able to lessen diarrhea for people that have IBS. Episodes of diarrhea will be reduced; and the gut flora repaired. There are the claims that this dietary supplement can lessen the risk of antibiotic-associated diarrhea. This health product similarly helps to support a healthy gastrointestinal tract.
Ingredients & How It Works
The active ingredients are cultured strains of probiotics, namely:
Lactobacillus helveticus (R0052) (0.2 billion colony-forming unit)
Lactobacillus rhamnosus (R0011) (3.8 billion colony-forming unit)
Bacillus subtilis (R0179) (0.3 billion colony-forming unit)
Enterococcus faecium (R0026) (2.7 billion colony-forming unit)
The inactive ingredients in the formula are potato starch, lactose, vegetarian capsule (carbohydrate gum, purified water), whey powder, vegetable-grade magnesium stearate (lubricant), and ascorbic acid. Ingredients such as potato starch contain 8 grams of resistant starch per tablespoon. Resistant starch is a useful prebiotic, in providing food for probiotics.  Probiotics help with IBS symptoms by reducing the risk of antibiotic-associated diarrhea. Probiotics also help to break down lactose found in dairy, as well as breaking down complex starch carbohydrates that supply energy. Probiotics also promote good gut flora and reduce episodes of diarrhea in people with IBS.
Daily Serving
The manufacturer of this dietary supplement recommends a dosage of one (1) capsule daily with a meal; otherwise, as instructed by a doctor or health-care provider.
The Cost
A pack of Probiotic IBS Support containing 30 capsules is obtainable online at $28.99 excluding a shipping fee of $12.88. The manufacturer of this dietary supplement product does not offer any discounts.
Guarantee
There is no manufacturer's guarantee offered by the company producing this supplement. This is of concern: the manufacturers may not be assured of the usefulness of this product.
Our Review Summary Of Probiotic IBS Support
The manufacturers of this probiotic product list the numerous bacteria and amounts of each on their product. These natural digestive enzymes all act to reduce abdominal pain, bloating, and unhealthy bowel movements, repairing the health of your gut. On the other hand, this product has some snares. This manufacturer does not offer any discounts, nor a guarantee on this health product. This dietary supplement health product is therefore not as cost-effective as other goods on the market aimed at improving gut health. Secondly, you cannot send this product back and obtain a refund if the product does not work for you. The use of a probiotic is helpful in reducing the symptoms of IBS. All the same, there are many comparable products on the market claiming to offer matching results. Thirdly, this dietary supplement lacks many of the qualities other products are offering. For that reason and to conclude, founded on our research, we would advise choosing another, similar product over this health product.
Well researched reviews, from the experts at Research & You.