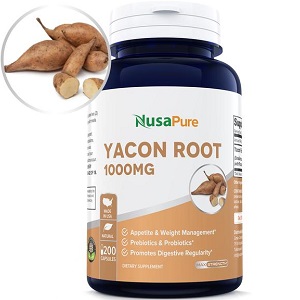 Weight Management Yacon Root 1000 - Does It Work?-Review
What is Weight Management Yacon Root 1000?
This review looks at Weight Management Yacon Root 1000, a dietary supplement made of Yacon Root Extract which is designed to curb your appetite and boost metabolism by stabilizing blood sugars.  This product contains organic antioxidants and is marketed as a product to aid individuals with their weight loss goals without needing to diet and exercise. Yacon Root comes from a plant native to South America and is often used as a natural sweetener.  It has a high content of fructooligosaccharides (FOS) which inhibits the uptake of carbohydrates and disrupts the formation of fat.
Ingredients & How It Works
The primary ingredient is Yacon Root Extract (Smallanthus Sonchifolius) with 1000mg. Two capsules have 1000 mg and there are no other ingredients at all so no fillers and binders. Yacon is rich in antioxidants and has the ability to regulate your level of blood sugar, lower cholesterol, help with weight loss goals, lower blood pressure and boost digestive health. There is an allergen warning that this product contains soy (lecithin).
Daily Serving
The product label states to take one capsule before meals with an 8-ounce glass of water.  It does not state a limit to the number of capsules that can be taken in one day.  However, it does state that pregnant or nursing mothers, children under 18 years of age, and individuals with a known medical condition should consult their healthcare professional before using this product or any dietary supplement.  
The Cost
This product can only be purchased on third-party websites and we could only find one website which was selling Weight Management Yacon Root 1000 at this time. There was a note on one website which explained that the manufacturer was changing the product packaging and that no returns were allowed. The one website we found selling this product was for a bottle of capsules for $17.00 plus shipping costs.
Guarantee
The manufacturer states on the label that there is a 100% satisfaction guarantee but there does not appear to be any information about what the guarantee actually is.  The third party website selling this product specifically states that they do not accept returns.
Our Review Summary Of Weight Management Yacon Root 1000
Made in the USA, Weight Management Yacon Root 1000 is an all-natural supplement designed to help individuals who need a boost with their weight loss goals. As a dietary supplement, however, it does not seem to either be popular in terms of availability for purchase and popular in terms of the reviews that are available from customers that have purchased the supplement.  Most of the reviewers state that taking the supplement had no effect on their weight loss goals.  It also appears that the product and/or packaging is changing and that may account for the difficulty in finding third-party sites who are selling the product.  Moreover, we were disappointed to see that the manufacturer proudly offers a 100% satisfaction guarantee with no information about what this means.  Generally speaking, there is almost no information about this product and the manufacturer, and it leaves a lot to be desired for the buyer who will likely choose other Yacon Root extracts on the market that are well rated, more affordable, and come with satisfaction guarantees.
Well researched reviews, from the experts at Research & You.