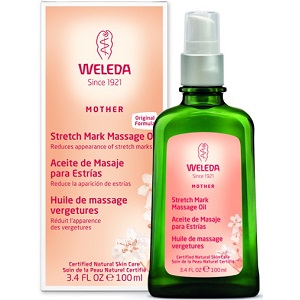 Weleda Stretch Mark Oil - Does It Work?-Review
What is Weleda Stretch Mark Oil?
The following product review examines Weleda Stretch Mark Oil to bring you all the real facts. The manufacturer claims that this product will beneficially improve the appearance of stretch marks and that use during and after pregnancy will help give you smoother more elastic skin.
Ingredients & How It Works
Prunus Amygdalus Dulcis Oil
Simmondsia Chinensis Seed Oil
Triticum Vulgare Germ Oil
Arnica Montana Flower Extract
Eugenol
Prunus Amygdalus Dulcis Oil also known as Sweet Almond Oil can be used as a topical treatment to help soften skin and can also kill germs. Simmondsia Chinensis Seed Oil is beneficial as an emollient that can sooth skin and unblock hair follicles. Triticum Vulgare Germ Oil can be applied to the skin to help prevent sunburn. Arnica Montana Flower Extract can reduce pain and swelling and may also help treat skin conditions such as acne and insect bites. Eugenol is beneficial as an antiseptic and an anti-inflammatory.
Daily Serving
The manufacturer recommends that you should start using this product from the beginning of your pregnancy until you finish nursing and that you should massage the cream two to three times daily using circular movements. The manufacturer has failed to provide adequate cautions and warnings for this product and based on our research, there may be allergen concerns and this may result in it not being suitable for everyone to use.
The Cost
You can purchase Weleda Stretch Mark Oil online and directly from the manufacturer's website. One bottle contains 3.4 fl oz and will cost you $25.50. Unfortunately, it seems that there are no discounted options for bulk purchases provided which is rather disappointing.
Guarantee
The manufacturer does not advertise a money back guarantee although, the provided refund policy states that you may return this product for a refund within 30 days of your purchase date but unfortunately, it appears that this policy may only refer to the refund of damaged or incorrect products and therefore, it may not cover the effective results of the product which in concernings and also indicates that there may be a lack of confidence from the manufacturer.
Our Review Summary of Weleda Stretch Mark Oil
This product does seem to use some good ingredients and therefore, it could be an alright product to opt for however, our research shows that this product does seem to use a lot of preservative and fragrance ingredients and this may result in it not being an entirely suitable product for everyone especially for those with sensitive skin. Weleda Stretch Mark Oil has not been backed by a significant manufacturer's guarantee and the refund policy probably does not cover the effective results of this product and this is even more concerning when realising that there are no customer reviews available on the manufacturer's website which could have provided a social platform of information regarding the personal experiences of people who have actually tried this skin care product. In conclusion, this product does not really seem to stand out in any relevant way when compared to most other similar products and therefore, we recommend that you should rather consider a product available from leading brands that have proven to be effective.
Well researched reviews, from the experts at Research & You.