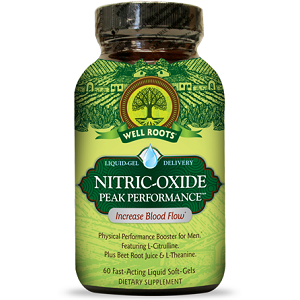 Well Roots Nitric-Oxide Peak Performance - Does It Work?-Review
What is Well Roots Nitric-Oxide Peak Performance?
The following is a review for Well Roots Nitric-Oxide Peak Performance, a product designed for adult men who want to maintain ongoing sexual health or need assistance with immediate sexual enhancement by increasing their blood flow.
Ingredients & How It Works
For two liquid softgels, the primary ingredients include a 965 mg Well Roots custom blend as follows:
L-Citrulline

Beet Juice Powder (root)

Ginkgo Extract (24% flavone glycosides, 6% terpene lactones) (leaf)

L-Theanine

Cayenne Powder (30,000 HU) (fruit)

Asian Ginseng Extract (80% ginsenosides) (root)


Secondary Ingredients:
Soybean Oil

Gelatin

Purified Water

Glycerin

Beeswax

Soy Lecithin

Carmel Color

Silicon Dioxide

St. John's Bread

Titanium Dioxide

Canthaxanthin

Carmine
Unmistakably, this is a long list of ingredients containing artificial colorants and flavorings as well as soy.  We were happy to see that the ingredient list included L-Citrulline which aids in the production of Nitric Oxide, as well as Beet Root Juice, Ginseng Extract and Cayenne which have traditionally been used to give individuals energy boosts.  Glaringly absent from this ingredient list is the amino acid L-Arginine (AAKG) which is considered essential in the production of Nitric Acid,  Quercetin which also increases Nitric Oxide production by increasing blood circulation, and Pine Bark extracts which induce blood vessel relaxation and promote an increased oxygen supply to your muscles.
Daily Serving
Adults should take two liquid softgel capsules two times a day with meals.  With 2400 mg as the daily recommended dosage, Nitric-Oxide Peak Performance comes in way short of the amount; only 1930 mg would likely be ineffectual.
This product is not intended for persons under 18 years of age. Individuals with any medical condition including heart disease or high blood pressure should consult with their physician before using this product.  Individuals with low blood pressure, who are pregnant, and nursing mothers should not take Nitric-Oxide Peak Performance at all. A two-week break is required after 90 days of continuous use of this product, and consumers are advised to never exceed the recommended daily intake of this product.
There is a warning notice on the label for California Residents Proposition 65 which states that product contains a chemical that causes birth defects or other reproductive harm.
The Cost
On the manufacturer's website, one bottle of 60 liquid softgels cost $24.99 plus $5.00 for shipping.  With the purchase of two bottles, shipping is free.  Purchases over $100 are given a 10% discount.  On third-party sites, one bottle is sold for $16.00 with attractive shipping options.  There does not appear to be the option to buy multiple bottles of this product at a discounted rate.
Guarantee
Our research did not uncover a 100% satisfaction guarantee policy. This was surprising and disappointing given competitive products where the satisfaction guarantee can be as long as a year.  We found it unfortunate that Well Roots is not confident enough in its product to reassure customers of its effectiveness.
Our Review Summary Of Well Roots Nitric-Oxide Peak Performance
Well Roots prides itself on providing the cleanest form of packaging on the market with its products marketed in their signature glass bottles and all liquid softgel products.  However, we were surprised to find no reviews on the manufacturer's website and only handfuls of reviews on third party websites.  Most relevant perhaps is that available reviews pointed to the ineffectiveness of this product, especially at its high price point. And with no satisfaction guarantee provided by the company, and with a number of key ingredients missing that are significantly known to aid in the production of Nitric Oxide, we cannot give Nitric-Oxide Peak Performance a top recommendation.  Interested parties would be better off trying a competing product that comes with satisfaction guarantees of up to a year; this is one of those times that the manufacturer's confidence in its product goes a long way on all fronts.
Well researched reviews, from the experts at Research & You.