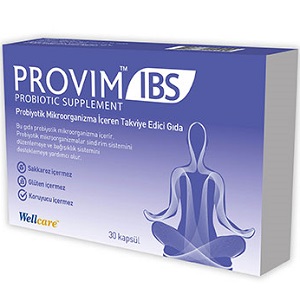 WellCare Provim IBS - Does It Work?-Review
What Is WellCare Provim IBS?
IBS - if you're one of the 60 million Americans who suffer from this chronic disease you'll be all too familiar with the constipation, abdominal cramps, bloating, untimely gas, loose stools and more that this condition can bring. Irritable Bowel Syndrome consists of a combination of ongoing bowel and abdominal conditions that are specific to each person, that is influenced by diet among other factors, and that has one thing in common: your digestive system deviates, to whatever extent, from what is considered 'normal' function on a chronic and not occasional basis. Alleviating symptoms comes down to avoiding triggers as well as taking in nutrients that can soothe the angry, inflamed digestive tract lining, as well as help digestion.
Today's review covers a supplement called Provim IBS made by WellCare. The manufacturer says it helps to normalize the disrupted physiological balance of your intestinal working. This helps to alleviate symptoms. Let's look at the formula and compare it to what the science is on effectively managing IBS. 
Ingredients & How It Works
The formula contains:
Lactobacillus acidophilus
Sodium Butyrate
Of all the probiotic strains, Lactobacillus acidophilus is probably the most important one and certainly the most well-known. There are numerous strains, each performing its own function and needing certain conditions to flourish, but this strain is one of the hardiest and an 'all-purpose' one too. By boosting the good bacteria in your gut, digestion will become easier. It should also create an environment in the gut that is more hostile to invaders such as e.coli, candida, and other viruses and bacteria. Sodium Butyrate helps provide energy to the cells in your intestine so it supports the rate at which the probiotic is trying to bring about a calmer, more functional gut environment.
However, not only is the formula missing numerous other probiotic strains, it is missing the all-important natural enzymes required to break down each food group. Leading global medical experts and published science in leading journals are clear that if you have IBS, you won't see a real improvement if you don't add 100% pure, natural enzymes to your diet. As for the pain caused by an inflamed digestive tract, you need soothing agents to reduce the cramps and pain. This formula offers nothing by way of scientifically researched ingredients such as Aloe, Peppermint, Ginger and Turmeric. The formula also does not contain active black pepper compounds in the form of Perilla which would then ensure fast, effective relief as it speeds up absorption.
Daily Serving
At the height of an attack, take 2 tablets twice a day for at least 10 days. To build up your defences, take 2 capsules once a day for at least 15 days. Since we don't know how much of the Lactobacillus acidophilus strain is in each capsule, it is not possible to say if this is an adequate probiotic dose or not. But you do need 50 billion to 100 billion live strain probiotics per day. 
The Cost
The manufacturer is in Istanbul. We searched extensively for an online price but could not find one anywhere, including on social media channels. The supplement does not appear to retail on Amazon. It appears to be distributed in the Middle East only.
Guarantee
As far as researching the information available goes, Well Care does not appear to offer a returns policy. These days, all manufacturers confident in their product are proud to stand behind money-back policies should their supplement not work as intended. 
Our Review Summary Of WellCare Provim IBS
Sodium Butyrate as an ingredient in a probiotic formula is rare, and it does help intestinal cells to fuel up and do their work more easily. Because the tablets are enteric-coated, they will reach the stomach that much more easily.
You need a spectrum of probiotics to restore good bacteria though for starters, with this formula offering only one. You also need between 50 billion and 100 billion live bacteria a day but WellCare does not tell us how much it has included. This is not the only unknown variable about this product. Is it freely available? How much is it? Can you safely return the product and get your money back? We don't know, and it seems there is no guarantee.
Fundamentally, the formula lacks any of the enzymes and soothing agents you'll need to decrease the severity of your symptoms, frequency of attacks and intensity of pain.
Given all the lack of not only critical ingredients but crucial information about this product, we are unable to recommend it.
Well researched reviews, from the experts at Research & You.