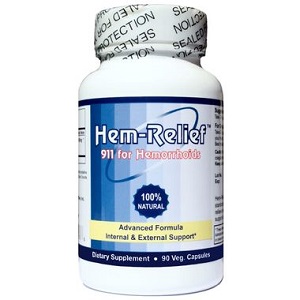 Western Herbal and Nutrition Hem-Relief 911 for Hemorrhoids - Does It Work?-Review
What is Western Herbal and Nutrition Hem-Relief 911 for Hemorrhoids?
This review examines all the facts about Hem-Relief 911 for Hemorrhoids. It is a hemorrhoids relief supplement that includes natural ingredients like Horse Chestnut which works by strengthening and supporting the healing of damaged vascular tissues to help do away with the common symptoms of this condition. This supplement works for both external and internal hemorrhoids and works from the inside out. This product is considered safe because it does not contain any harmful extracts.
Ingredients & How It Works
Hem-Relief 911 for Hemorrhoids contains three key active ingredients as listed below:
Witch Hazel Leaf - It has anti-inflammatory and soothing properties that help it to work successfully to reduce symptoms like inflammation and swelling.
Horse Chestnut Leaf - It offers healing effects and promotes the healing of damaged vascular tissues. Also, this ingredient reduces inflammation and swelling.
Ginger Root - One common cause of hemorrhoids is a weak digestive system, and this ingredient can soothe the digestive tract.
Though the product's ingredients are all natural, they are included in high dosages which might not be good for some consumers.
Daily Serving
This product is packaged in bottles of 90 veggie capsules each. The prescribed dosage for Hem-Relief 911 for Hemorrhoids is three capsules per serving, three times a day. When the symptoms such as pain, bleeding disappear, it is recommended to lower the dose. The capsules should be taken alongside with food or a lot of water. However, from our research, we discovered that the dosage for this product might be considered to be too high since the ingredients in the formula are in high percentages.
The Cost
A bottle of Hem-Relief that contains 90 capsules costs $39.95, two bottles of 180 capsules cost $69.90. The company offers free shipping for customers purchasing four bottles of the product online.
Guarantee
The manufacturer offers a risk-free 90-day, satisfaction guarantee. If you buy the product and you are not satisfied with the results, you are free to return it for a 100% refund within 90 days of purchase. However, shipping and handling costs are not refundable and only closed bottles are eligible for a refund. The guarantee confirms the manufacturer's confidence that it has on the effectiveness of the product.
Our Review Summary Of Hem-Relief 911 for Hemorrhoids
Hem-Relief 911 for Hemorrhoids is an effective hemorrhoids relief supplement. It alleviates hemorrhoids within 30 days of continuous use. Availability of a 90-day risk-free guarantee gives consumers time to make a decision if the product is useful for them or not. It is also produced in an FDA approved laboratory. It, therefore, meets industry standards for quality in the production of every bottle. Based on the positive customer reviews, it is clear that consumers receive satisfying results after use. However, we established that the price for this product is a bit high considering the prescribed daily dosage and so users will have to dig deep into their pockets to afford it.
Well researched reviews, from the experts at Research & You.