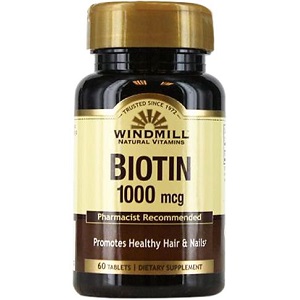 Windmill Biotin - Does It Work?-Review
What Is Windmill Biotin?
Read our review below about Windmill Biotin. Biotin formula provides a 10,000 mcg of biotin per tablet. An essential B Vitamin also called Vitamin B7, which is needed for skin, nail and hair health. Not only does Windmill Biotin promote healthier hair, skin, and nails but helps with the metabolism of fats, proteins, and carbohydrates. A regular dose of 10,000 mcg of Windmill Biotin aims to help improve hair,  the texture of the skin and improve the condition of nails. Overall it aims to help the body to maintain good health.
Ingredients And How It Works
Main Ingredient

Biotin (1,000 mcg at a concentration of 333%)

Biotin is one of the B-vitamins, also known as vitamin B7. It's necessary for the function of several enzymes known as carboxylases. These biotin-containing enzymes play a role in crucial metabolic pathways, such as the production of glucose and fatty acids. Biotin plays a role in Gluconeogenesis, a metabolic pathway which enables glucose production from sources such as amino acids instead of carbs. Biotin-containing enzymes help initiate this process. Fatty acid synthesis: Biotin assists enzymes that activate reactions important for the production of fatty acids.The breakdown of amino acids: Biotin-containing enzymes are involved in the metabolism of several important amino acids, including leucine.

Other Ingredients:
Microcrystalline cellulose
Croscarmellose sodium
Calcium carbonate
Stearic acid lubricant
Silica is all additives
Magnesium stearate
Pharmaceutical glaze
Calcium carbonate is utilized by the body for healthy bones, muscles, nervous system, and heart. Microcrystalline cellulose, Croscarmellose sodium, and Silica are all additives. Stearic acid, as well as Magnesium stearate, are lubricants and Pharmaceutical glaze is actually derived from resin which is secreted by a female lac bug.
Daily Serving
As per the manufacturer's nutritional label, the daily dosage is 1 tablet daily as a dietary supplement or as directed by a healthcare professional. Store at 15-30 degrees centigrade (59 - 86 degrees F).
The Cost
Bought from various national retailers and pharmacies and local online orders can be made through third-party retailers at a cost of $5.39 for a bottle which contains 60 tablets.
Guarantee
No guarantee or return policy is mentioned as per their website. This is certainly disappointing, as most manufacturers offer a 365 day 100% guarantee, or a 30-day full refund if their customers are dissatisfied with the product.
Our Review Summary Of Windmill Biotin 1000 mcg
We like that the manufacturer uses 100% recycled content for the majority of their packaged products and has also raised a lot of money for charities. Furthermore, we have found in this review that there other ingredients in this product which may stunt the overall performance of the biotin. The fact that the manufacturer offers no guarantee or return policy, would cause us to suggest an alternative Biotin manufacturer.
Well researched reviews, from the experts at Research & You.