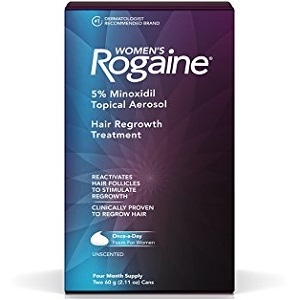 Women's Rogaine 5% Minoxidil Foam - Does It Work?-Review
What is Women's Rogaine 5% Minoxidil Foam?
Women's Rogaine 5% Minoxidil Foam is a hair regrowth treatment for women who are experiencing hair loss due to a genetic problem or aging. This product claims to halt any further hair loss and to be clinically proven.
Ingredients & How It Works
The main ingredient is 5% minoxidil which is a known medication that slows hair loss and promotes hair regrowth in numerous people.
The secondary ingredients are:
Butylhydroxytoluene (BHT)
Citric Acid Anhydrous
Cetyl Alcohol
Lactic Acid
Glycerol Anhydrous.
Propellant Aeropin 70
Polysorbate 60
Purified Water
Stearyl Alcohol
SD Alcohol 40B
All of these ingredients are combined to revive the hair follicles responsible for the regrowth of hair.
Daily Serving
Women's Rogaine 5% Minoxidil Foam should be applied once daily. It can be applied in the morning or the evening. The steps for using this foam are as followed:
The hair and scalp should be dried before usage.
The foam should be applied to the scalp where hair is beginning to shed.
For best results, the foam should be left to dry on the scalp for up to 4 hours.
The Cost
Women's Rogaine 5% Minoxidil Foam comes in different packages depending upon how many months a customer would like to use it.
It comes in 2, 4, 6, and 8 months' supply.
On their official site, these supplies costs:
2 month supply: $ 29.99
4 month supply: $ 49.99
6 month supply: $59.99
8 month supply: $ 69.99
If you are looking for a discount, then you can buy 2 and 4 month supply on Amazon at $24.03, and $39.99 respectively.
Guarantee
There is a money back guarantee provided by Rogaine which can only be availed after using this product for 120 days. To claim the refund, the customer has to mail the online or in-store sales receipt to Rogaine's customer center with the product price circled.
Our Review Summary of Women's Rogaine 5% Minoxidil Foam
From some of the consumer reviews we read and from our own assessment, we think that this is a good product. Some people who used the product for a month began to gain more hair. Other who used it for at least two months, saw their thinning hair actually get thicker and longer. We liked the fact that this hair treatment foam is more convenient than other similar products because it only needs to be applied once a day. However, we did not like some of the side effects that people experienced like further hair shedding, scalp irritation, itchiness, dryness, and redness. Some of the more alarming side effects listed were chest pain, lowered blood pressure, and a light-headedness. We think that before using this product for the first time, you should definitely consult a doctor due to so many side effects. In any case, Women's Rogaine 5% Minoxidil Foam has many positive customer reviews on its official website, as well as, on other retailer sites like Amazon and Walmart.
Well researched reviews, from the experts at Research & You.