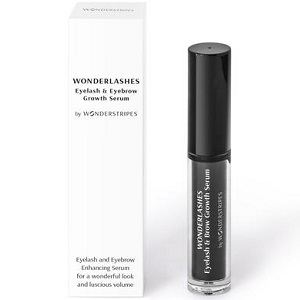 Wonderstripes Wonderlashes - Does It Work?-Review
What is Wonderstripes Wonderlashes?
This is an informative review of an eyelash and eyebrow growth serum manufactured by Wonderstripes, called Wonderlashes. The aim of this product is to help the lashed and brows increase with length and volume in a natural way. Keep on reading to see what benefits are offered by Wonderstripes Wonderlashes and to see if it is a product for you.
Ingredients & How It Works
Aqua (Water)
Pentylene Glycol
Glycerin
Biotinoyl Tripeptide-1
Isopropyl Cloprostenate
Sodium Hyaluronate
Panthenol
Tocopherol
Polyglyceryl-4 Caprate
Ethylhexylglycerin
Alcohol
Phenoxyethanol
One of the main active ingredients in this product is a molecule called prostaglandin. This ingredient helps to stimulate hair follicles and reactivates hair growth. The other active ingredients include peptides for strength and hyaluronic acid and panthenol that help to deeply moisturize the hairs. This sounds very promising. Unfortunately, we see that other brands contain at least 5 patented ingredients that are backed by clinical studies and research. This product, sadly, contains none. In addition to this, the product does not seem to provide essential natural ingredients such as marsula oil and pea sprouts. These could cause the product to be less effective, especially in comparison with other brands.
Instructions
The product should be applied daily to the lashes and the brows. Preferably, apply the product at night after cleansing. For the eyelashes, apply a small amount of the product onto the base of the lashes with the applicator. Allow the product to soak in. Do not apply the serum onto the inside of the lash line as it may seep into the eye. For the brows, apply a generous amount to the roots or onto patches to stimulate more growth. More serum should be used on the brows than on the lashes.
The Cost
A 3 ml tube will cost $80.83 and a 1 ml tube will cost $26.94. The manufacturer does not provide a discount on their products and there are no bundle deals to take advantage of depending on your need. Nonetheless, the product can be purchased directly from the manufacturer's website.
Guarantee
We are quite disappointed to say that Wonderstripes Wonderlashes does not seem to offer a money-back guarantee. As a result, you will run a financial risk with the purchase of this product.
Our Review Summary Of Wonderstripes Wonderlashes
We have completed our review of Wonderstripes Wonderlashes. In this review, we found that the manufacturer provides helpful and clear usage instructions for the customers, which we like. Unfortunately, there are also a few things about the product that we do not like. First of all, the product lacks essential ingredients as well as ingredients that are patented and backed by credible research. This could affect the product's effectiveness and leave it behind other brands. Furthermore, we see that there are no discounted bundle deals or a solid guarantee. This may indicate that the manufacturer is not confident in their product and thus does not take care of their customer's financial needs as well as their need for the product.
These reasons and our research lead us to believe that Wonderstripes Wonderlashes is not very effective. There are many alternative products on the market that will provide more and even better benefits for you.
Well researched reviews, from the experts at Research & You.