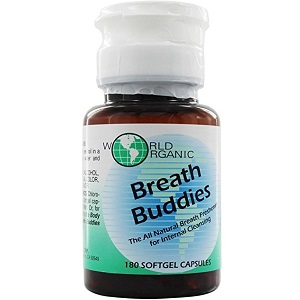 World Organic Breath Buddies - Does It Work?-Review
What is World Organic Breath Buddies?
It's a challenge to know how to get to the core of a problem like bad breath, but World Organic Breath Buddies which we are reviewing today ensures long-lasting fresh breath no matter what you've eaten by addressing the core issue in a human's digestive system known to be the source of these offensive odors.  Dysbiosis is an imbalance between the good and bad bacteria in a person's digestive tract and bad breath is understood to be caused by there being too many toxins present in your body.  The capsules contain no preservatives, alcohols, sugar, and artificial colors or flavors.  and Favorable results can be experienced as early as 30 minutes after taking this product.
Ingredients & How It Works
Primary Ingredients:
Sunflower Oil

Parsley Seed Oil
Other Ingredients:
Parsley contains a high amount of chlorophyll and acts as a breath deodorant. Sunflower Oil is also a common ingredient used to alleviate bad breath. Ingredients that we were surprised not to find on this product label are Lactobacillus Acidophilus, Green Tea, Magnolia, Peppermint, and Fennel - all which are known to be effective for addressing breath issues and which are noteworthy probiotic interventions having therapeutic benefits. Unfortunately, we do not have any other specific information about the ingredients used in the Breath Buddies, and amounts, which makes it difficult to determine what is behind the design of this product to fight bad breath.
Daily Serving
The product label suggests taking 2-3 capsules along with a liquid after eating for best results within 30 minutes.  If needed, you may repeat this dosage again for desired results. If pregnant, you are advised to consult your healthcare professional about this product before using.
The Cost
One bottle of Breath Buddies contains 180 softgel tablets can be purchased for $5.65/bottle; 90 softgel capsules for $4.50.  
Guarantee
Unopened products may be returned within 30 days from delivery.  There is no mention of a 100% satisfaction guarantee policy.
Our Review Summary of World Organic Breath Buddies
We agree that this is certainly a fair product designed to for malodors of the mouth.  But our chief concern is that we don't have enough information about the product and how it is designed to work:  we do not know how many milligrams of sunflower and parsley seed oil there are in the capsules as we are given the most minimum amount of information on the ingredient list.  But also, there are no reviews to be found and functionally this means that we just don't have a ton of experiences to draw upon with this particular product by consumers.  Thankfully there are many other products on the market that tackle fighting bad breath and they come at attractive prices with strong consumer reviews backing them up. We, therefore, put forth the recommendation to try other products on the market which contain tested ingredients such as chlorophyllin and lactobacillus acidophilus that will fight straight to the issue at hand at an attractive price point with customers ready to vouch for the effectiveness of the products.
Well researched reviews, from the experts at Research & You.