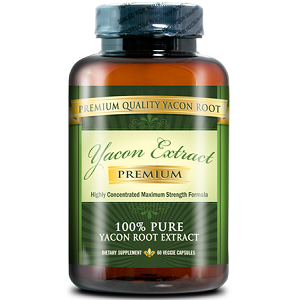 Yacon Extract Premium - Does It Work?-Review
What is Yacon Extract Premium?
Yacon Extract Premium was created to help boost the weight loss process. The manufacturer says it is made from directly from Yacon root and contains no fillers or binders and provides the recommended daily amount of active ingredient to help you lose weight. This review of Yacon Extract Premium presents all the details you need to know to help you decide whether you can start losing weight with this supplement.
Ingredients & How It Works
There is only one ingredient, which is Yacon Root Extract at 1600mg (per two capsules). While many other products made with Yacon contain the leaf or the seed, which may cause kidney problems and other severe side effects, this product contains extract from the root. Moreover the amount provided is the same amount that was proved to be effective in the clinical studies, 1600mg per day.
Researchers have found that since Yacon root can be used as a dietary supplement, it is helpful in helping with weight loss and satiating the hunger. Moreover, it works also to reduce cholesterol as it contains a sugar which can help break it down in your body, and it helps with improvement in the digestive tract.
Clinical studies have found that with the Yacon root users lowered their food intake and had lower cholesterol and insulin levels and less constipation.
It should be noted that since this is a dietary supplement, it must be combined with a nutritious meal plan and exercise routine.
The product also includes 100% vegetarian capsule.
Daily Serving
Adults should take one capsule twice a day, 30 minutes before meals with a full glass of water. If you are pregnant or nursing you should contact your doctor before starting on this supplement. Moreover if you are under 18 years old or already have a known medical condition, a physician must approve this supplement.
The Cost
The manufacturer offers a number of product packages for purchase. At the time of writing you could purchase a single 60-count (one-month) bottle for $48. A three-bottle, three-month supply cost $30.33 per bottle. A variation on the three-month supply included two bottle of capsules and one bottle of Yacon syrup for $32 per unit. Similar bulk options were available with a decreasing cost per unit per the number of units bought. The lowest per-bottle package provided five bottles of capsules and one bottle of syrup for $24 per unit.
Guarantee
Yacon Premium Extract offers a customer-friendly return policy allowing both opened and unopened product to be returned for refund within 3 months of purchasing. Since the website advises that it takes less than a month to start seeing results, this is adequate time for a trial.
Our Review Summary of Yacon Extract Premium
If you want to increase your chances of weight loss, then Yacon Extract Premium offers an affordable way to do this. With its 100% natural formulation from the Yacon root and research-based dosage, it gives users the chance to speed up their slim-down in a healthy fashion. And we're fans of the 90-day return/refund policy. Remember, however, that this product will only help with your weight loss efforts if you also eat nutritious foods and exercise.
Well researched reviews, from the experts at Research & You.