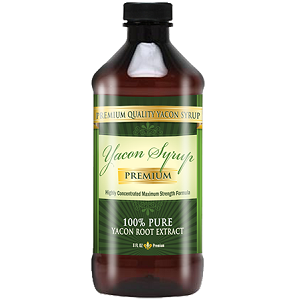 Yacon Syrup Premium - Does It Work?-Review
What is Yacon Syrup Premium?
The weight loss supplement marketplace is overflowing with capsules based on any number of purported natural weight loss aids, like green coffee beans, Triphala, and Caralluma Fimbriata. A slightly different twist comes in the form of Yacon syrup, a sweet-tasting substance produced from the root (ideally) of the Yacon plant. Yacon Syrup Premium stakes its claim in the burgeoning weight loss aid trade with what it claims is simply the best Yacon syrup product available. Period. A strong claim. It bases its claim on its use of pure ingredients with no additives or fillers, a formula that contains 50% Fructooligosaccharides (FOS) - the active ingredient from the Yacon plant's root, and the amount used in a clinical study which showed notable weight loss success for the participants using this ingredient.
Is Yacon Syrup Premium the weight loss aid you have been searching for. We present all the details in our review, below, to help you decide.
Ingredients & How It Works
The ingredients list is short and, yes, sweet (and is used by some as a replacement for sugar or maple syrup). Yacon Syrup Premium contains only Yacon Syrup with 50% FOS. That's it.
Research has suggested that it works by reducing the body's absorption of carbs and its fat production as well. In addition, it is said to have an appetite-suppressant effect so that you feel full more quickly and for a longer time. The list goes on as it is also said to help lower blood pressure and provide the body with antioxidants.
Daily Serving 
The manufacturer recommends taking one teaspoon three times a day. Ideally, each dose should be taken before a meal. It can be taken straight up or used in coffee, as a topping for pancakes (assuming they're a practical part of your diet plan) or pretty much anywhere else you would add a sweetener.
The Cost 
There are a number of packages offered by the manufacturer when you are ready to buy. Each bottle contains 8 fluid ounces or 236 ml and should last between 15 and 23 days depending on how you use it. You can purchase one bottle, called the "Sampler", for $48.00. The "Beginner's" pack is a three-bottle set and is priced at $36.00 per bottle. The "Moderate" pack contains four bottles and brings the per-unit price down to $32.00 while the "Bestseller" is a five-bottle supply at $29.60 per bottle.
Guarantee 
If for any reason you're unsatisfied with your purchase, the company has an unstinting 90-day return and refund policy. It covers both used (opened) and unused (unopened) bottles, meaning you can try it and determine if it works for you, without financial risk.
Our Review Summary of Yacon Syrup Premium
Yacon Syrup Premium prides itself on is its transparent approach. It's up front about its attributes and policies and we like the fact that there is also a toll-free customer service number (or email contact form) with representatives available to answer any questions you may have. Most important in our assessment is the fact that it's made from pure Yacon Root. Other Yacon products may not be based on a formula that is as potent. Finally, the money-back guarantee gives us that extra boost of confidence in recommending this product.
Well researched reviews, from the experts at Research & You.