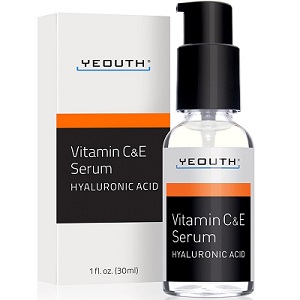 Yeouth Vitamin C and E Day Serum - Does It Work?-Review
What is Yeouth Vitamin C and E Day Serum?
Yeouth Vitamin C and E Day Serum claims to help its user's skin look vibrant and younger by reducing the appearance of fine lines and enhancing the skin tone. The ingredients present in this product help to provide nutrients and hydration to the skin cells so that they are healthier. This review will examine the validity of these claims and determine how useful this product is in comparison to similar products which features we have also assessed.
Ingredients & How It Works
Aloe Barbadensis Leaf Juice
Magnesium Ascorbyl Phosphate
Sodium Hyaluronate
Tocopherol
Aloe juice contains a large variety of nutrients that are beneficial for the health of the skin cells so that they do not wrinkle. It is also rich in antioxidants which reduce inflammation in the skin. Sodium hyaluronate contains hyaluronic acid which fills up the space between skin cells so that the skin gets plumped and has a firm appearance. This is helped by the vitamin C present in magnesium ascorbyl phosphate. Vitamin C stimulates the production of collagen which is a strong protein that is also responsible for firming up the skin. Vitamin C and tocopherol are also good antioxidants.
Instructions
Start by cleansing the skin and then spritzing a toner onto the face and then apply this product allowing it to absorb into the skin. The manufacturer also suggests purchasing their moisturizer and applying it afterwards. Unfortunately, this means that customers would have to purchase two products instead of just using one that does both jobs in order to receive the best benefits.
The Cost
1 fl oz is available for purchase directly from the manufacturer for the price of $15.95 which is currently discounted from $39.95. The price does not include shipping or taxes and there are no subscription or bulk order discounts. Customers can sign up for  the manufacturer's loyalty program to receive 15% off their first order.
Guarantee
This product comes with a 100% satisfaction guarantee where customers may return the product within 30 days of their order to receive a complete refund. This guarantee applies to all products, even those which have already been used. The only problem with this guarantee is that it is not long enough for customers to try the product completely before the guarantee expires.
Our Review Summary Of Yeouth Vitamin C and E Day Serum
This product contains a decent collection of ingredients but it does not contain any patented ingredients like other manufacturers do. The importance of patented ingredients is that they have been tested and are often a lot more effective than this generic combination. The instructions for using this product are very clear. However the manufacturer shows the ineffectiveness of their product by stating that customers need to purchase additional products to actually receive the benefits. We are very appreciative of this manufacturer's guarantee but we do note that it is only valid for a period of time that is too short. 
Well researched reviews, from the experts at Research & You.