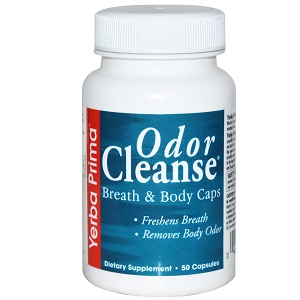 Yerba Prima Odor Cleanse - Does It Work?-Review
What is Yerba Prima Odor Cleanse?
This review is going to take a closer look at Yerba Prima Odor Cleanse to learn more about how it works and to see if it is a worthwhile product. This cleanse is a dietary supplement that is made up of a patented mushroom extract and is designed to cleanse your body from odor-causing toxins in order to eliminate bad breath. The manufacturer claims that taking this cleanse will help reduce harmful bacteria in your body, supports your body's overall immune system, will help support kidney health, acts as a protective antioxidant in the digestive system and can reduce intestinal gas generation.
Ingredients & How It Works
Patented Mushroom Extract - 75 mg

Agaricus Bisporus
Other Ingredients: Cellulose, FOS, Vegetable Magnesium Stearate, Kosher Gelatin Capsule.
The mushroom extract is believed to work by removing ammonia from the bloodstream and gases like trimethylamine, sulfur, and indoles. It can also boost your overall immune system by removing toxins from your body.
Daily Serving
Yerba Prima recommends taking one or two capsules as needed, with liquid and preferably after meals in conjunction with maintaining a good oral hygiene program. To reduce bad breath occurring from eating garlic, onions or meat they recommend taking 1 or 2 capsules with or immediately following the meal. For reducing body odor, they recommend taking one or two capsules daily for a minimum of two weeks. To reduce fecal odor, they recommend taking two capsules three times daily for a minimum of two weeks.
If you have difficulty swallowing you should not take these capsules. If you are pregnant, nursing, taking prescription medication or are under medical supervision you should speak with your doctor before consuming this product.
The Cost
You can buy one 50 capsule bottle on the manufacturer's website for $13.99. They do not offer any bulk purchasing packages or discounts.
Guarantee
We were unable to find a manufacturer's guarantee. We recommend contacting their customer service to inquire about their up to date return policy, should you choose to move forward with this product. Otherwise, you may not get your money back if this product does not work for you or you experience adverse side effects.
Our Review Summary Of Yerba Prima Odor Cleanse
This odor cleanse appears to be a decent tool that can help eliminate your bad breath and body odor. It comes in easy to swallow capsules for convenience and it is made up of a key ingredient that has been found to have the ability to cleanse your body of odor-causing toxins. However, while every person can have a different reaction to a supplement, we found that the majority of the consumer feedback we saw is negative. Consumers claimed that after continuously taking this supplement as instructed by the manufacturer, they did not see any difference in their odor. Another common complaint we saw was that taking this odor cleanse caused many consumers to experience adverse side effects that caused them to immediately stop taking it. Furthermore, this product is not backed by a manufacturer's guarantee which suggests that the manufacturer is not confident in its product's ability. You are better off purchasing an internal odor-eliminator that has positive consumer reviews and is backed by a strong manufacturer's guarantee for consumer protection.
Well researched reviews, from the experts at Research & You.