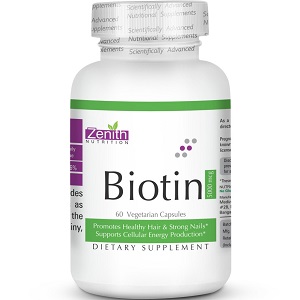 Zenith Nutrition Biotin - Does It Work?-Review
What Is Zenith Biotin?
In this review, we have found that Zenith Nutrition Biotin is specifically designed for men. If you are prone to have dry brittle hair and nails, this product aims to support those experiencing hair loss, brittle nails, and unhealthy skin. Zenith Nutrition Biotin aims to maintain your hair, nails, glowing skin, as well as of the nerves and digestive tract.
Ingredients And How it Works
Each vegetarian capsule contains:
10 000 mcg Biotin (concentrated at 3333%)
Di-calcium Phosphate
Biotin is also known as vitamin H or Vitamin B7. Biotin is crucial for the well-being of metabolic processes, which include the metabolism of fats and amino acids, the production of fatty acids, and the growth of cells. This vitamin processes foods you have ingested which includes carbohydrates, proteins, and fats. When biotin levels are at the proper levels in your body, the food that you take in will be processed quickly.

Dicalcium phosphate is used as a food additive and is also found in some toothpaste as a polishing agent and is known to be a biomaterial. We definitely see this as a downside to this product as it may hinder the overall outcome of the supplement.
Daily Serving
As per the manufacturer, the suggested dosage for this dietary supplement is 1 capsule daily or as directed by a qualified medical practitioner. A warning is given to pregnant or lactating women, diabetics, hypoglycemics and people with known medical conditions and/or taking drugs, as they should consult with a qualified medical practitioner and/or pharmacist prior to taking Zenith Nutrition Biotin as a dietary supplement.
The Cost
Zenith Nutrition Biotin is available for online purchase directly off of the website. Online orders price this product at $12 for a bottle which contains 60 capsules.
Guarantee
If there is a problem with the product, Zenith Nutrition will replace the product or refund entire amount plus return shipping charges. We have found in our research that there is no guarantee from the manufacturer.
Our Review Summary Of Zenith Biotin
We like the fact that Zenith Nutrition Biotin is free from toxins, metals, and preservatives.
Unfortunately, in our finding that the Manufacturer does not give a guarantee, we find this to be a serious matter of concern as most leading brands offer a 365 day 100% money back guarantee. The added preservative - Dicalcium Phosphate is also a downside for the product as extra ingredients may hinder the performance of the dietary supplement after thorough research, all of these downsides would cause us to recommend an alternative biotin manufacturer.
Well researched reviews, from the experts at Research & You.