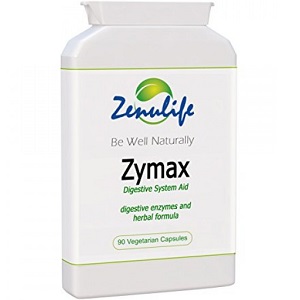 Zenulife Zymax Natural Digestive Aid - Does It Work?-Review
What is Zenulife Zymax Natural Digestive Aid?
The following review is for a product called Zenulife Zymax Natural Digestive Aid. It is designed to help detox your body and promote good digestive health. The product works by getting rid of toxins, improve regularity and the absorption of nutrients. This then aids in preventing bad breath, body odor and digestive issues.
Ingredients & How It Works
The digestive enzymes contained in this supplement provide gut soothing properties that help your body maintain a healthy digestive and intestinal system.
Daily Serving
Take 1 to 3 Zymax capsules before each main meal. If you are using Zymax on its own, you may start with a higher dose of 2 to 3 capsules before meals for 3 to 4 weeks. Following that, reduce the dose to 1 or 2 capsules taken 2 to 3 times per day or as required. For best results, it can be combined and used with Xbiotic. There is no more information on what Xbiotic is. However, when we searched, we discovered that it is a probiotic supplement manufactured by the same company.
The Cost
Zymax Natural Digestive Aid can be purchased online through the manufacturer's website. The price is $29.99, which is a discount from $49.99. In addition to that, there is a special offer where you get one bottle at no cost if you buy two bottles. In order to benefit from this special, you must follow the instructions provided on the website.
Guarantee
The manufacturer promises to refund you if you are unsatisfied with the product, without asking any questions. However, you must return it to them within 60 days from the date of purchase. This shows that the manufacturer has confidence on the effectiveness of their product. 
Our Review Summary Of Zenulife Zymax Natural Digestive Aid
Zenulife Zymax Natural Digestive Aid seems to be a promising product for detoxing the body, and improving the digestive health, which prevents bad breath and body odor. The manufacturer is confident on the effectiveness of the supplement, that they promise to refund you without asking any questions if you are unsatisfied with the results. They sell the product at a discounted price. Furthermore, you get one bottle at no charge if you buy two bottles.
All this is good, however, we have few concerns. There is one consumer review on the website, and it was posted five years back. It is worrying that there are no other reviews on the website, because that could mean that only few people have actually bought and/or used the product. It could also mean that this supplement is not well known in the market.
Another concern that we have is that the product on its own does not seem to be very effective. We say this because it is recommended that you use it with a probiotic supplement from the same manufacturer, for maximum results. If you use it on its own, the dosage is very high. Rather look for a product that will satisfy all your needs, without having to use it with another supplement for it to be effective. 
Well researched reviews, from the experts at Research & You.