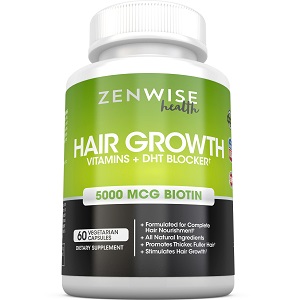 ZenWise Health Hair Growth Vitamins - Does It Work?-Review
What Is ZenWise Health Hair Growth Vitamins?
The following review is for a product called Health Hair Growth Vitamins. It claims to promote your hair's overall health as well as stimulate hair growth. It also contains essential antioxidants and vitamins which help to prevent hair loss. It contains a unique blend of 27 ingredients that includes Biotin.
Ingredients And How It Works
Vitamin A 
Vitamin C
Vitamin D3 
Vitamin E 
Vitamin B1
Niacin 
Vitamin B6
Folic Acid
The product also contains B12, Biotin, Pantothenic Acid, Iodine, Zinc, Grape Seed Extract, Kelp, L-Proline, MSM, Nettle, Saw Palmetto, Resveratrol, Catalase, Gotu Kola, Pumpkin, and Magnesium.
Vitamin A produces a healthy sebum (an oily substance produced by die scalp) in order to keep hair from breaking off and from dying out. Vitamin C helps to support collagen maintenance and antioxidant activity which is of the utmost importance for hair growth. Vitamin D aids in creating new follicles while Vitamin E reduces side effects that may be experienced when taking hair loss supplements. Vitamin B1, B6,  Niacin and folic acid also help to prevent hair loss.
Daily Serving
Two capsules should be taken daily, if possible with a meal. If the capsules are taken in the morning or early afternoon, the nutrients will be absorbed optimally throughout the day. The recommended dose should not be exceeded. It is important that nursing women, pregnant women and children younger than 18 should consult a doctor before using this formula.
The Cost
One bottle, that contains 60 capsules, can be purchased online for $24.97.
Guarantee
If you are unhappy with the purchase you made, you will be refunded in full. They do, however not state how many days after purchase the offer stays valid or in what condition the product should be in when returned.
Our Review Summary Of Health Hair Growth Vitamins
After reviewing Health Hair Growth Vitamins, we realized that it would be a good option when looking to support hair growth. This product contains many powerful ingredients and it is reasonably priced.
There are quite a few positive client reviews on the ZenWise website. Many customers mentioned that after they started using the formula, they indeed started noticing that their hair got thicker and stronger. They also noticed more volume, less shedding and faster hair growth. Clients reported that they saw results within 3 weeks to 2 months after they started using this formula. There are also clients who state that the product didn't work for them at all.
One aspect that was quite concerning, is that while they do offer a full refund when you're not happy with your purchase, they do not mention for how long the offer is valid neither do they specify in what state the product should be in when returning it.
Another concerning aspect of Health Hair Growth Vitamins is the fact that DHT is a derivative of testosterone (the male hormone) and that it is linked to male baldness. This might be a concerning fact for women wanting to use this product.
Well researched reviews, from the experts at Research & You.