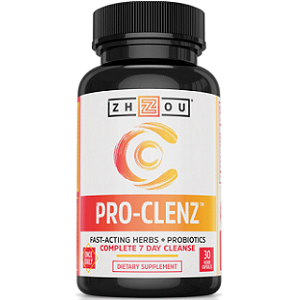 Zhou Pro-Clenz - Does It Work?-Review
What Is Zhou Pro-Clenz?
In this review, we will be examining a product from Zhou called Pro-Clenz. According to the manufacturer, this product may be an effective solution for individuals who want to get rid of toxins that have been stored in the body. When you develop a buildup of wastes in the body, you may find yourself feeling lethargic, ill, and miserable. The manufacturer of this product claims that this dietary supplement is an effective solution for individuals who are participating in a seven day cleanse.
Ingredients & How It Works
Potassium
Pro-Clenz Colon Detox Complex – Contains ingredients like Senna, aloe vera, Bacillus Coagulans and more.
Vegetable Cellulose
Magnesium Stearate
When we first examined the ingredients included in this formula, we were rather impressed with the combination of ingredients. However, we were concerned about a variety of things that came up during our research. There are more additives, preservatives, fillers, and binders included in this formula than we would expect in a product like this. These additional ingredients could make this product unsuitable for individuals who suffer from allergies. Additionally, we are worried that this product does not include many vital ingredients that would be beneficial in this formula.
Daily Serving
The manufacturers of this product recommend that you take two capsules each day. Regrettably, the manufacturer does not provide any additional instructions. This is concerning because the contents of your stomach can lead to the supplement not being absorbed properly. If the ingredients are not absorbed into your system in an optimal manner, it is highly unlikely that you will notice any benefits from this supplement.
The Cost
Unfortunately, you cannot buy this product directly from the manufacturer. It is available on a variety of other online stores. Depending on the third party seller, you choose you can expect to pay around $13.50 for a bottle of this supplement. You may receive additional discounts if you subscribe for repeat deliveries of this product.
Guarantee
After a considerable search, we were unable to find any information regarding guarantees that are available for this product. This is quite concerning as it indicates a lack of confidence in their product. Additionally, it does not seem that there are any return or refund policies in place.
Our Review Summary of Pro-Clenz
When we completed our review for this product, we found that it could possibly be an effective solution for individuals who want to get rid of excess toxins in their body. This product is available for a good price and there are wide varieties of positive reviews available for this product. However, we would be reluctant to recommend this product to anyone due to a few issues we uncovered during our research. We believe that this product contains an excessive amount of additional ingredients that are not necessary. Additionally, we believe that this dietary supplement does not contain several of the key ingredients that we expect in a product that is effective for eliminating wastes from the body.
Well researched reviews, from the experts at Research & You.