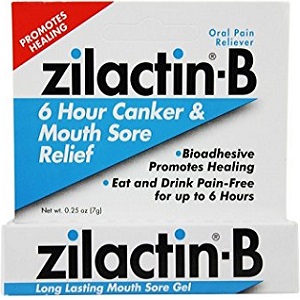 Zilactin-B Long Lasting Mouth Sore Gel - Does It Work?-Review
What is Zilactin-B Long Lasting Mouth Sore Gel
Today we are reviewing Zilactin-B Long Lasting Mouth Sore Gel. The manufacturer of this mouth sore gel claims that this gel will provide speedy and effective relief from pain caused by mouth sores for up to 6 hours. The unique thing about this gel is that it says that you can eat and drink pain-free for up to 6 hours after you've used it. The second feature of the gel is that it includes a patented bio-adhesive that promotes healing by maintaining contact with the affected area for longer time periods. Keep reading to see if Zilactin-B Long Lasting Mouth Sore Gel can cure your painful mouth sores.
Ingredients & How It Works
Benzocaine
Boric Acid
Hydroxypropyl Cellulose
Propylene Glycol
Water
Salicylic Acid
SD Alcohol 38B
Tannic Acid
Benzocaine, an effective local anesthetic that temporarily numbs the affected area is the primary ingredient of this gel. The boric acid and propylene glycol have an antiseptic effect on the affected area and will help to prevent infection that may result from the canker sores.
Daily Serving
Dry the irritated area before applying the gel. Apply a thin coat of product with a cotton swab or a clean finger up to 4 times a day. Allow the gel to dry for a minute. This product is intended for adults and children older than two years. If a child under 12 years wants to use this product then that child should be subject to adult supervision. If you want to apply this gel to children under 2 years old please consult your dentist or doctor before doing so. This product is intended for external use only and you should stop using if your condition worsens or if there is no improvement within 7 days.
The Cost
You cannot buy directly from the company website, but there are a number of online retailers and traditional stores like Walmart, and CVS where you can buy it. Amazon sells Zilactin-B for $10.01 per pack including free shipping. Some retailers give a discount if you buy in bulk.
Guarantee
The guarantee policy varies between retailer. Amazon has a 30-day money back guarantee valid from the time of delivery as long as the product is returned in its original packaging and you are responsible for the return shipment costs.
Our Review Summary Of Zilactin-B Long Lasting Mouth Sore Gel
There are several things that we liked about Zilactin-B Lasting Mouth Sore Gel. We like the patented bio-adhesive that promotes healing by maintaining contact with the affected area for longer time periods. We like that the gel has an active ingredient of Benzocaine which should make it highly effective at numbing the pain of a mouth sore quickly. We also like that you are still able to eat and drink without pain when you have applied this product. Price varied between retailers but generally we felt that the price was quite reasonable when compared with other products. However, some negative comments are that the product doesn't come with a good guarantee and the policies will vary between retailers. Also many reviews that we read had negative things to say about the effectiveness of the product. For these reasons we are unable to fully recommend this gel for the treatment of canker sores.
Well researched reviews, from the experts at Research & You.