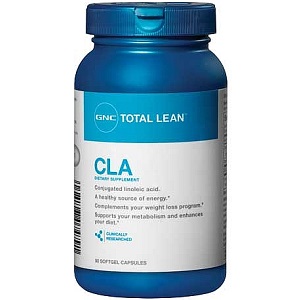 GNC Total Lean CLA - Does It Work?-Review
What is GNC Total Lean CLA?
GNC Total Lean CLA is a dietary supplement which, the manufacturer says, helps individuals lose weight and build muscle. It helps boost metabolism and "enhances" your diet. GNC Total Lean CLA is supposed to help users lose weight without forcing them to drastically change their lifestyle. Read our full review, below, of GNC Total Lean CLA and decide if it looks like the right diet assist for you.
Ingredients & How It Works
GNC Total Lean CLA only contains conjugated linoleic acid derived from safflower oil. While CLA is a natural fatty acid found in some meats, many people take CLA supplements to aid in weight loss. CLA is a popular supplement as it a natural substance that currently has no reported side effects. It works by decreasing body fat while increasing lean muscle. In time this could actually cause weight gain, as muscle weighs more than fat, but it still causes the body to become thinner and healthier.
Daily Serving
The daily recommended dosage is two capsules a day. Each capsule contains 1000mg of CLA. GNC Total Lean CLA does not specify if these capsules should be taken together, with food, or before exercise to be more effective.
The generally recommended daily serving is between 1 and 3 grams. GNC Total Lean CLA's recommended portion fits comfortably into that range. However, some experts claim individuals can take up to 6 grams a day without having to worry about experiencing adverse side effects. Unfortunately, the label does not clarify what % standardized CLA is included in this product. The recommended percentage is 80%.
The Cost
GNC Total Lean CLA can be purchased through the manufacturer's website. A 90-capsule bottle costs $29.99 and a 180-capsule bottle costs $49.99. Customers who subscribe save 10% and receive free shipping.
It can also be purchased of Jet.com. Jet.com offers 10 different purchase option, with each package slightly more discounted than the previous package. Orders over $35 receive free shipping, and using a coupon code can take 15% off for the first three orders.
Guarantee
The manufacturer offers a 30-day, money-back guarantee. Customers who purchase GNC Total Lean CLA can return both used and unused products that they are not satisfied within 30 days. Full refunds will be given, minus shipping and handling fees. Products must be returned in the original bottle, in good condition, and with all the paperwork in order to receive a refund.
Our Review Summary Of GNC Total Lean CLA
GNC Total Lean CLA seems to be a decent entry in the weight loss supplement market. It contains enough CLA to be effective, although some sources say you could take more on a daily basis. This product had a good number of customer reviews at the time of writing, the majority of them positive. Customers claim that this product works well as a dietary supplement; however, some of them claim that following a proper diet is necessary for effects to be seen. GNC Total Lean CLA is not the cheapest CLA supplement on the market, but and the manufacturer money-back guarantee is not the most flexible requiring return of the product within 30 days. That would indicate that practically speaking, you cannot test its effectiveness risk-free. Try checking out a product we recommend, Research Verified CLA reviews.
Well researched reviews, from the experts at Research & You.